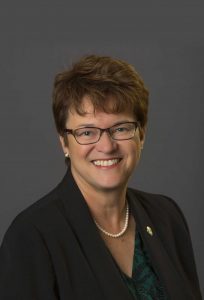 Welcome to the end of Bemidji State University's centennial celebration, a milestone we celebrate during one of the most trying times in our institution's history.
As we prepare this issue of Bemidji State University magazine for print, we are in the midst of an unprecedented response to the global COVID-19 pandemic. The majority of our employees have been working remotely for nearly a month, and we have worked to support both the essential employees who must remain on campus and the students who remain in our residence halls. Faculty are now teaching all of our spring coursework via alternative delivery methods, with no in-person instruction on campus. And, as you may have heard, we joined the rest of the Minnesota State system in making the difficult decision to cancel our May 8 Commencement ceremony.
There is no playbook for the challenges we have been forced to overcome, but throughout this emergency our campus community's passion, creativity and sense of purpose have remained focused on the success of our students. These are the traits we celebrated from the first 100 years of our history, and these are the traits that will carry us forward into Our Second Century.
Please enjoy this issue of Bemidji State University magazine, and re-live the events and activities that have occurred on campus since April of 2017 in recognition of our Centennial. Not only do I hope the stories and photos you find within will provide you with a welcome distraction during this pandemic, I also hope they provide a reminder of the vital role BSU continues to play in the lives of our students. Through their dreams and achievements, we continue to demonstrate our place in the Bemidji community, the state of Minnesota and the entire world. May this fine institution continue to endure, to its 200th birthday and beyond.
Please take care of yourselves and your families and stay healthy.
Sincerely,

Dr. Faith C. Hensrud
---
Make sure the BSU Alumni Office has your latest contact information: Alumni who have changed jobs or their names and those who have multiple or seasonal addresses are asked to update their contact information by visiting bsualumni.org or calling (218) 755-3989 so you can stay up-to-date on news and events.