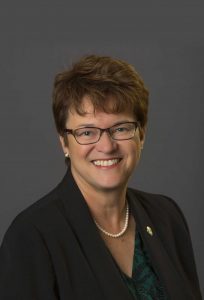 This issue of Bemidji State University magazine recognizes the opportunities and challenges that come with great change and celebrates the remarkable dedication our faculty display every day to share their knowledge with our students.
Fitting for our Centennial celebration, this issue also includes a story featuring some of our oldest alumni. According to BSU Alumni and Foundation records, we have four living alumni who are currently at least 100 years old, and we were fortunate enough to speak with three of them.
In this issue's faculty feature, you'll meet Dr. Misty Wilkie, who in her six short years at Bemidji State has done truly outstanding work to increase opportunities for American Indian and indigenous nursing students. She embodies the values that make Bemidji State such a special place — drive, talent and an unyielding desire to see our students succeed.
You'll also meet three May graduates who are on their way towards remarkable futures — one to a job with a famed accounting firm; one who has used her engineering knowledge to design a groundbreaking drone; and a third who has been a champion for equity and diversity.
Our cover story is a memorial of sorts for Hagg-Sauer Hall, which has anchored the northern edge of BSU's lakeside skyline since 1970. By now, you have heard of our project to demolish and replace Hagg-Sauer with a smaller building and renovate four other buildings on campus. The renovations are well underway and by the time this magazine reaches you, Hagg-Sauer's demolition will be imminent.
Change can be difficult. Saying goodbye to a building where so many memories and relationships have been formed over the decades is difficult.
But change is also necessary. Construction of the new Hagg-Sauer Hall, featuring modern collaborative learning spaces and current technology, begins this fall. It will be a beautiful building in which our faculty will be proud to teach and our students proud to learn. I look forward to celebrating this building with you at groundbreaking and dedication ceremonies as we begin our second century.
Until then, we remember the old Hagg-Sauer Hall and say "thank you" for the role it has played in the stories told by generations of faculty and students.
Go Beavers!

Dr. Faith C. Hensrud
---
Make sure the BSU Alumni Office has your latest contact information: Alumni who have changed jobs or their names and those who have multiple or seasonal addresses are asked to update their contact information by visiting bsualumni.org or calling (218) 755-3989 so you can stay up-to-date on news and events.