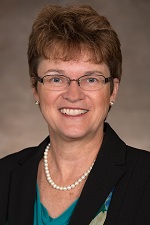 President's Message
When this magazine reaches you, I will have completed my first year as president of Bemidji State University and Northwest Technical College. The months have flown by and yet been rich with experience. I am grateful for your support and your friendship, both personally and on behalf of everyone at BSU. I am in awe of our outstanding students, and the outstanding alumni they become, and so impressed by the caring faculty and staff who create a truly transformative environment for learning.
This twice-yearly BSU magazine is like a ladle of water scooped from a stream. The events and accomplishments change from one issue to the next, but what is most striking is the steady flow of achievement, pride and momentum toward an even better future. We have no shortage of successful students to highlight, including the hundreds who participated in this spring's Student Achievement Conference. They benefit from such superb professors as Dr. Mark Wallert in biology and Dr. Dwight Jilek in music, both featured in this issue. We also have an abundance of impressive alums whose lives were shaped by their experiences at Bemidji State. Among them are Fred Baker, Stella Nelson and several others profiled here. Likewise, our ongoing efforts to serve American Indian students and tribal communities – highlighted in the cover story – illustrate our continual determination to do more and do it better.
This theme of constancy in the midst of change is fitting as we prepare to celebrate the university's centennial in 2018-19. We are just getting started with preparations for this historic event and are eager to learn how Bemidji State helped you become who you are. I consider myself extremely fortunate to join you as a member of this wonderful community, and I look forward to sharing many more milestones in the years ahead.
Best wishes,


Dr. Faith Hensrud