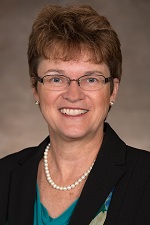 Consider this edition of Bemidji State University magazine your official invitation to share in the celebration of BSU's 100th anniversary. Our alumni and friends are all members of the extended — and growing — Bemidji State family, and we hope you share our joy in this special milestone in the university's journey of learning, achievement and service.
Having launched our Centennial observance in April with an enthusiastic Kickoff Celebration, we will continue with events and activities into the fall of 2019. That will be 100 years after the students of Bemidji Normal School began their first fall semester amid the pines on the shore of Lake Bemidji. All of us who share Beaver Pride can be thankful for the accomplishments of our predecessors, confident that the university's mission remains focused on student success and optimistic about all that BSU can accomplish in the decades to come.
I believe you will find our university's many enduring strengths represented in these pages. For example, a story of intergenerational mentorship reflects the generosity of those who open doors for our graduates as they start their careers. Another article includes alums' recollections of their favorite professors, which underscore the absolutely essential role of our superb and dedicated faculty.
Included in news about the BSU Alumni & Foundation is an announcement of our new executive director for university advancement, Josh Christianson. He replaces the retiring Marla Patrias, whose knowledge and talents have made such a difference over the past 20 years. I am excited for you to meet and work with Josh and the advancement staff as they enlist the support needed to carry BSU into the future.
Please join with us, whether in person or in spirit, as we celebrate a Bemidji State Century. Your involvement and investment will help ensure that our founders' vision persists as we educate people to lead inspired lives.
Go Beavers!

Dr. Faith C. Hensrud