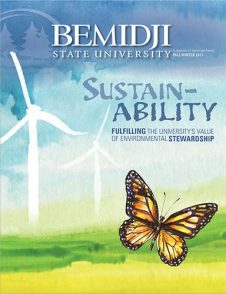 Fall/Winter 2017 Edition
We have once again focused our magazine cover story on one of Bemidji State University's fundamental values — its deep commitment to environmental stewardship through education and action. In the spring/summer 2017 edition, we examined BSU's growing emphasis on serving American Indian students and tribal communities, which is an expression of our values of multicultural understanding and civic engagement.
These reports are timely as we approach Bemidji State's centennial, set to begin in April with the 100th anniversary of the university's groundbreaking as Bemidji Normal School. Our core values were essential to the development of BSU's new strategic plan for 2018-2023, which is now underway. The plan emerges from a distinct identity to be found in our north woods location, caring community, transformative learning and active engagement with the wider world.
BSU Magazine: Fall/Winter 2017
---
Previous Issues