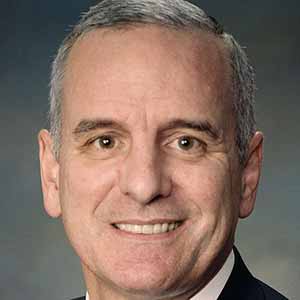 Bemidji State University reached a significant milestone in a years-long effort to replace the aging Hagg-Sauer Hall when Minnesota Gov. Mark Dayton (right) signed the state's bonding bill into law on May 30.
The $1.57 billion bill appropriates $22.512 million for the project, which calls for Hagg-Sauer to be demolished and replaced with a smaller, classroom-focused facility, and for renovations to spaces in five other buildings on campus.
Replacing the existing 82,000-square-foot Hagg-Sauer Hall, now nearly 50 years old, with a 28,000-square-foot classroom-focused facility will allow BSU to create groups of faculty offices in learning communities of related disciplines. These focused communities will create better environments for students to meet with faculty — and each other — outside of the classroom.
The project also will help BSU avoid costly deferred maintenance projects on the existing building and reduce overall energy costs.
• Learn more: Hagg-Sauer Academic Learning Center (PDF) (updated Aug. 2017)
The proposed academic learning center, which will be finalized in the coming months as university officials meet with architects to develop construction plans, includes 10 state-of-the-art teaching spaces on two floors designed to accommodate a variety of course types and learning styles. Classrooms will range in size from 40 to 132 seats, and the building also will include an auditorium that can accommodate lecture classes with as many as 320 students.
The project also will feature native plant landscaping to reduce water usage and better manage drainage as part of the university's ongoing commitment to sustainability and the preservation of Lake Bemidji. The building is being designed to maximize energy efficiency and to emphasize natural lighting. An all-glass eastern wall will overlook Lake Bemidji, and the building's smaller footprint will create a newly unobstructed view of the lake from the heart of campus.
Renovations are slated for the Bangsberg Fine Arts Complex, Bensen and Sattgast halls and the A.C. Clark Library. Those planned renovations include:
Bangsberg Fine Arts Complex: upgraded acoustics in practice labs and its band room renovated faculty and department offices and other student study and ensemble spaces, conversion of the Black Box Theater into a multipurpose space and upgrade technology infrastructure.
Bensen Hall: renovation of entire professional education faculty area, renovated space to accommodate relocated psychology and social work programs to include faculty offices, labs, workrooms and student lounges, and a new conference room and student work area.
Sattgast Hall: renovated faculty offices and renovated space to accommodate related math library, mathematics/GIS computer lab, and geography's cartography and planning labs, along with upgraded technology infrastructure.
A.C. Clark Library: improved access to updated library services and relocation of student support services to the main reference level, renovation of the geography map library, classroom and computer lab, updates to the library's reference area and creation of a tutoring center.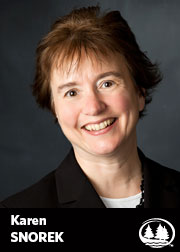 While a specific timeline for the project won't be finalized for several weeks, Karen Snorek, BSU's vice president for finance and administration, says the project's renovation phase could begin as early as December. Hagg-Sauer Hall could be demolished as soon as July 2019 with the goal of having the new Academic Learning Center open for classes in Fall 2020.
The university has been pursuing the Hagg-Sauer replacement project for several years. BSU received $1 million from the legislature in 2014 to plan the construction and renovation, when the project was ranked third on the Minnesota State system's priority list for construction. That session ended without a bonding bill, and the project became the system's top construction priority heading into the 2018 legislative session.
• Learn more: Minnesota State's 2018 Capital Budget Request
Governor Dayton has been vocal in his support for the project. It appeared in his January 2018 bonding proposal, which included a total of $1.5 billion for construction projects across the state. The project also appeared in the Governor's pre-session bonding priorities lists in 2014, 2016 and 2017. There was no proposal in 2015, as the state typically considers bonding bills every other year.
BSU's Hagg-Sauer Hall project is part of $129 million allocated to the Minnesota State system in this year's bonding bill. It includes $45 million for system-wide asset preservation and funding for projects at nine other campuses in the system:
Rochester Community and Technical College: Memorial and Plaza Halls
Minnesota State University, Mankato: Clinical Sciences Phase II
Anoka-Ramsey Community College: Nursing and Business (Design)
Century College: Applied Technology Center
Normandale Community College: Classroom and Student Services
Minnesota State University Moorhead: Weld Hall (Design)
Inver Hills Community College: Technology and Business Center (Design)
Riverland Community College: Transportation, Trade and Industrial Education Center
Fond du Lac Tribal and Community College: Maajiigi
---
Hagg Sauer & Campus Renovation Questions
Your input is valued throughout this process. If you have questions regarding the renovation projects, please submit them here to Karen Snorek, Bemidji State's Vice President for Finance and Administration. All questions will be reviewed and answered weekly.