Honoring Relationships through Fiber Art
Follow this link to view the recording of this session.
Fiber artist Kristen Anderson will share how she developed the ideas and pieces in her current body of work "Restorative Loops", a series of felt tapestries that pay tribute to elements of the natural world that she has developed a deep kinship with.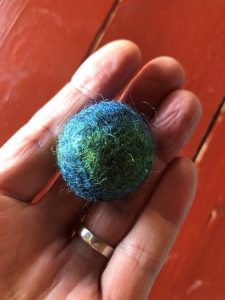 Kristen is a fiber artist, creating wool felt tapestries and rugs using a traditional wet felting technique. Her handwork focuses on themes of environmental science and human connection to the natural world. Kristen works in her Bigfork, MN studio, located in the Chippewa National Forest where she balances studio work, farming, volunteering as a forest technician at the Marcell Experimental Forest, and doing feltwork artist in residencies at local schools. Kristen received her B.A. in Biology and Art from St. Olaf College and has studied with artist, Mary Reichert at Otlak Felt Studio.