Follow this link to view the recording of this sending session.
Join us as Randy Gresczyk ends Earth Week 2021 with intention and appreciation.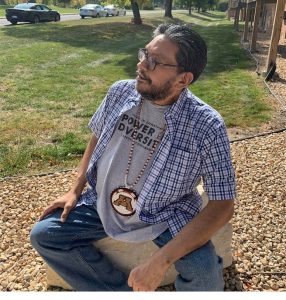 Ozaawaagwaneyaash (Randy Gresczyk) from the eagle clan, is an enrolled member of the Bois Forte Band of Ojibwe.  Randy is a very active member in the Twin Cities American Indian community.  Randy completed his undergrad degree at the University of Minnesota where he majored in History and American Indian Studies.  He currently works for the Robbinsdale Area School District as the American Indian Education Program Coordinator.   He is an instructor of Ojibwe Language at Augsburg University.  He is also an instructor of Ojibwe Language and Ojibwe Culture and History at Minneapolis Community and Technical College.  Randy is a traditional singer that grew up around the drum and culture along with the Ojibwe language.