Choosing a satisfying career is all about the right fit. Finding out more about yourself is one part, and finding out more about the world of work is the other.
Once you know your Top 5 Themes of Talent among the 34 Areas of Talent, they are pieces of the puzzle, along with your interests and values. You can also read how different strengths apply to actual careers.
Personal Successes Often Highlight Strengths
According to the StrengthsQuest book by doctors Donald Clifton, Edward "Chip" Anderson and Laurie Schreiner, asking yourself questions about your greatest successes will give you clues to the right career for you. To help you think about your successes, they suggest answering these three questions about your greatest triumphs:
What has been your most successful experience in an employment, service or volunteer work setting?
What has been your most successful experience in an academic, learning or athletic setting?
What has been your greatest success in an interpersonal relationship, leadership role, club, team or organization?
Individualized Strengths Coaching
If you want to find out more about your top five themes of talents (Strengths) make an appointment with Career Services. We will help you understand your "top five" and how to use them productively to increase success in academics, study techniques, relationships, extra-curricular activities and in your career.
Where to Start
A strengths workshop is a great place to start.
Each semester, Career Services offers a workshop called "Using your Strengths to Choose a Major", in which students complete a brief interest assessment based on an inventory developed by John Holland, who proposed that most people can be loosely classified into six different groups. These groups are six different personality types labeled:
Realistic
Investigative
Artistic
Social
Enterprising
Conventional
In the workshop, we examine how the various strengths are correlated with these Holland personality types and the types of careers associated with them. Watch the Career Services Calendar for the next workshop or call Career Services for an individual appointment to explore your strengths in relation to careers.
---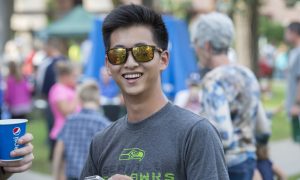 If you have not taken the Strengths Finder and wish to do so, contact the Advising Success Center.
For more information about strategies to apply each of your talents in career selection, take the assessment and explore the Strengths website.
What are your top 5 strengths?
---
---