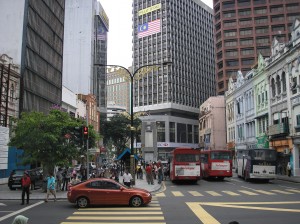 Visiting student have several choices of accommodations while they are at HELP.
Options include:
the HELP Residency,the school's residence hall for its own students;
a private hostel located close to campus; or
an apartment rented independently or with other students.
The International Student Services Department can help you make housing arrangements, whichever option you choose. We do recommend that BSU students stay at the HELP Residency if they are there for just one term.
HELP Residency
The HELP Residency building is a multistory building that offers both single and double rooms, although the number of single rooms is limited and there is normally a waiting list for those rooms.
Rooms include:
Air conditioning
Attached bathrooms
Fully furnished with beds, mattresses, desks, chairs and closets
Internet connection
You will need to buy items such as sheets, pillows, pillowcases, blankets and other linens. These items can be purchased from the Residence Management Office or from a local store.
Wifi is available throughout the building, and a student lounge and activity area is located on the first floor. Laundry services are available within the building and the entire premises are under a 24-hour security and CCTV watch.
Where to Eat
The Residency also has a reasonably priced cafeteria with an extensive menu. There isn't a meal plan, but you can manage three meals a day for under $10 USD.
The area around campus also has a variety of eating establishments offering a wide variety of food, both western and Asian, at affordable prices. Supermarkets and convenience stores are also located very close to campus and the cost of groceries is considerably less than the United States.
Learn more about HELP Residency and other living options.