Program Overview
Students have the opportunity to participate in a 6-credit study abroad program consisted of 3-credit (INTL 2100) (See brochure Study in China 2022) hyflex coursework in the spring and 3-credit (INTL 2200) of immersive learning experience in Nanjing, China in the summer. The spring course examines of the influence history, geography, economy, political, environmental, and social factors have on members of another culture as reflected by their values, beliefs, health practices and perspectives. This pre-immersion course also explores preparation for international travel, basic understanding of the sociopolitical structure of China, and cultural and historical background of the region where students will visit.  
This program is open to all students (GPA > 2.6) in the Minnesota State of Universities and Colleges, at any grade level. Nursing, Psychology, Social Work, Community Health and other health allied majors are encouraged to participate as this program allows students to gain knowledge, experience and perspective of other cultures in relation to the care industry and medical practices.
Both courses INTL 2100 and 2200 are existing courses offered through International Studies, and meets Liberal Education Goal Area 6 & 8. If the travel component cannot happen, students who have completed 3 credits in INTL 2100 will have completed 3 credits in Goal Area 8.
To see report on a previous similar study-abroad experience in BSU News: Culture and Health Care: BSU Nursing Students Travel to China 
Program Destination
If travel is permitted in summer 2022 and no quarantine period is required, we will study in Nanjing University of Chinese Medicine (NJUCM). Nanjing as the old capital of Republic of China, and 5 other dynasties, is full of rich history and culture. It is also the home to world heritage site Ming Xiaoling.
At NJUCM, students will study Traditional Chinese Medicine in a certificate-bearing course offered jointly by NJUCM faculty from their International Acupuncture Training Center and American faculty with theoretical as well as hands on learnings. This training center is a designated WHO collaborating Center for Traditional Medicine. Students will also participate in cultural excursion in the region. Together, these unique and immersive cultural activities and experiences will spur personal and professional growth in students and allow you the opportunity to integrate Chinese and Western health beliefs and practices related to health promotion, maintenance, and restoration.
Students will visit a traditional medicine hospital, community clinics, and attend classes with their Chinese faculty and peers. They will learn about a variety of cultural and professional similarities, differences, and issues between traditional medicine and more modern health practices.
Program Costs:
Nothing! Ok, maybe not quite, but there is NO program fee. Here is the break-down of your independent expenses.
| | | |
| --- | --- | --- |
| Tuition | For 6 BSU credits | $1817.7 |
| Airfare | Round trip from Minneapolis (MSP) to Shanghai (PVG) | $1500 |
| Passport | Fees to apply for U.S. Passport if you don't already have one | $150 |
| Visa | Fees and service charge to apply for Chinese visa | $180 |
| Meals and incidental during trip | $25 x 30 days | $750 |
| BSU International Health Insurance | For 30 days | $50 |
| Scholarship Stipend | Student participating in this program apply for scholarship and receive a monthly stipend | – $400 |
| Total | | $4047.7 |
This program has applied and been approved to receive scholarship funding from American Short-Term Study-in-China Initiative (ASSCI). Student upon submitting an application will receive a scholarship, which covers tuition at Chinese institution, oversea accommodation, Chinese Health insurance, and a monthly stipend.
Frequently Asked Questions:
How do I apply to be in this program?
You need a GPA greater than 2.6 to be eligible for this program. That's it! To apply, simply go to e-services and register for INTL2100 like you would with any other classes. The instructor will prepare you for the rest of the program throughout this course. If you are not interested in the travel, you can still sign up for INTL 2100, it will help you meet the 3-credit requirement in Goal Area 8.
2. Do I have to be a BSU student to participate?
No, since both courses are part of liberal education, and are part of the Minnesota Transfer Curriculum, students from any Minnesota State Universities and Colleges can take these courses, and transfer credits back to their home institution towards their degrees.
3. What if MNstate does not lift student travel restriction or China does not lift quarantine requirement?
There is a high likelihood that travel to China will not be permitted in summer 2022. Despite this limitation, students are encouraged to enroll in INTL 2100 where we will develop insights into our own cultural rules and biases and value our interactions with culturally different individuals. We will bring global learning to you, wherever you are, by bringing faculty from our Chinese partners to introduce Traditional Chinese Medicine, urbanization in China, etc. Through collaboration with the American Indian Resource Center, you will also be introduced to other health beliefs such as Traditional Indigenous Healing. Our goal is to be culturally responsive members of the community. 
INTL 2100 is offered Hyflex, allowing students to participate in class on campus or online. You choose the method that is right for you. The course will be offered on Mondays and Wednesdays from 4:00 – 5:30 in S 331 and via Zoom. If the travel component cannot happen, students who have completed 3 credits in INTL 2100 will have completed 3 credits in Goal Area 8.
4. What kind of accommodation will I be provided while living in Nanjing?
All students will be staying in the international student dormitory on the campus of NJUCM. All rooms are double occupancy. There are several canteens near the dormitory, which students can dine in. Upon arrival, each student will be provided a campus OneCard, which can be used similar to Beaver Bucks in the canteens, bookstore, convenience stores, etc. on campus. 

5. What kind of certificate do I get for completing the Chinese curriculum in addition to my BSU credits?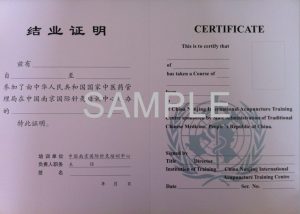 This is a sample of the certificate you will receive. Depending on the total number of training hours and topics covered, the certificate will specify the details.
6. How does COVID affect this program, and what are COVID safety protocols?
Program faculty will continue to monitor the pandemic in China, and will check state department travel advisory as well as CDC for guidance. Valid COVID vaccine record and negative COVID test result may be required for travel to China and return to the U.S. It will be students' financial responsibility to get tested. As the COVID pandemic is an ever evolving situation, we will continue to monitor the situation and update the students throughout the Spring course.
Contact
Others
2020 Application N3920 Global Perspectives in Nursing-CHINA
The 2020 oversea trip was cancelled due to COVID-19, if you are from the 2020 cohort, and would like to join us in summer 2023, please reach out!