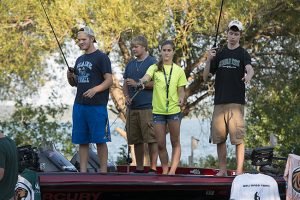 It all begins with Weeks of Welcome, an opportunity for new students to explore everything at BSU.
Take in a free movie on the lawn, start your day with a pancake breakfast, or sign up for a volleyball tournament – there's a lot to choose from.
Meet B.O.B.
During the annual Beaver Organization Bash (aka "BOB"), our many student groups convene outside Hobson Memorial Union to meet and recruit new students. It's a chance to see if you want to go Greek or meet the mathematics geeks.
Jump In The Lake
Homecoming is a weekend-long celebration, concluding with the big game at Chet Anderson Stadium. It's a longstanding tradition for the football team and students to celebrate a win with a communal jump in the lake.
United Nations
BSU is a diverse community that embraces the different cultures and traditions of our student body. Our annual Festival of Nations celebrates students and faculty from over 40 countries.