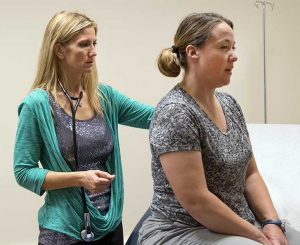 Our mostly-online, CCNE accredited program for Registered Nurses allows students to complete a bachelor of science in nursing in as little as a year. APPLY HERE
CHOOSE your PACE: You have many options in our program. You may enroll in a full-time schedule and complete the nursing requirements in a calendar year. Or choose a part-time schedule, and take as few as one or two courses each semester as it suits your life and work schedule. A typical part-time track takes 2-4 years to complete, including an occasional online summer course.
HYBRID or ONLINE: Most of our hybrid courses meet on-campus just two to three times during each semester, while many of our courses remain completely online. On-campus sites include Bemidji, Duluth, Cambridge, Coon Rapids, White Bear Lake, and East Grand Forks.
AFFORDABLE TUITION: Nursing courses that meet off-site are about $330/credit (including fees), and fully online classes are about $360/credit (including fees). On a full-time schedule, you'll pay less per credit due to banded tuition. More tuition/fee information can be found here. When comparing our program cost to others, be sure you get information about course fees.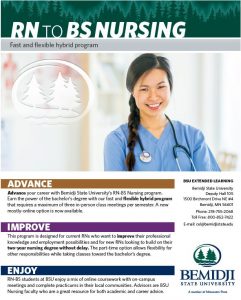 CLINICALS/PRACTICUM HOURS: Practicum learning opportunities include a wide variety of experiences, including a community health service learning project. These experiences are arranged between the faculty and the student which means RN-BS students are able to complete much of their practicum learning experiences as close to home as possible. 
FUN FACT: BSU's RN to BS program does NOT require Statistics! 
Quick Info
Eligibility: Students must be a graduate of an associate degree or diploma nursing program, have a cumulative transfer GPA of 2.5 or higher, and be licensed to practice as a Registered Nurse, or be within one semester of licensure (notice of RN license must be received by mid-July). Each meeting site is limited to 30 students. The program starts a new group every fall semester (once a year).
Credits required for RN-to-BS major: 36 credits – view catalog for requirements. Additional credits to fulfill the BS degree may be required, based on outcome of transfer.
Credits required for Bachelor of Science degree: 120 credits minimum, including 40 upper-level credits overall.
Delivery options: Blended delivery, mostly online courses with some on-campus meetings. Meeting site choices include:
Bemidji State University – Bemidji
Anoka-Ramsey Community College – Coon Rapids or Cambridge
Century College – White Bear Lake
Lake Superior College – Duluth
Northland Community and Technical College – East Grand Forks
More info: Graduates of our RN-BS program are eligible for Public Health Nurse registration. Learn more at the Nursing Department web site.