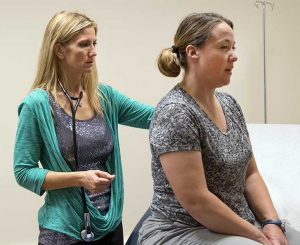 Our mostly-online, CCNE accredited program for Registered Nurses allows students to complete a bachelor of science in nursing in as little as a year. APPLY HERE
CHOOSE your PACE: You have many options in our program. You may enroll in a full-time schedule and complete the nursing requirements in a calendar year. Or choose a part-time schedule, and take as few as one or two courses each semester as it suits your life and work schedule. A typical part-time track takes 2-4 years to complete, including an occasional online summer course.
HYBRID or ONLINE: Most students meet on-campus just three times during each semester. On-campus sites include Bemidji, Duluth, Cambridge, Coon Rapids, White Bear Lake, and East Grand Forks. In 2018 we introduced a new online* option. Why don't we offer a fully online option? Our nursing program advisory board urges the importance of a hands-on, lab-based advanced health-assessment course, which at this time can only be done well in a simulated care environment (college nursing lab space). *The "Bemidji Online" option meets twice in Bemidji the first semester of the program (in the fall), but is otherwise a completely online program option.
AFFORDABLE TUITION: Nursing courses that meet off-site are about $330/credit (including fees), and fully online classes are about $350/credit (including fees). On a full-time schedule, you'll pay less per credit due to banded tuition. More tuition/fee information can be found here. When comparing our program cost to others, be sure you get information about course fees.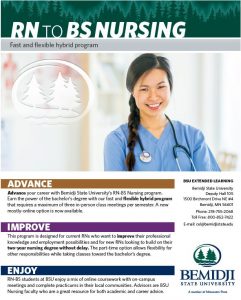 NO CLINICALS or PREREQUISITES: Practicum learning opportunities include a wide variety of experiences, including a community health service learning project. These experiences are arranged between the faculty and the student which means RN-BS students are able to complete much of their practicum learning experiences as close to home as possible. There are no specific course prerequisites to be eligible for our program, and our program does not require a statistics course.
Quick Info
Eligibility: Students must be a graduate of an associate degree or diploma nursing program, have a cumulative transfer GPA of 2.5 or higher, and be licensed to practice as a Registered Nurse, or be within one semester of licensure (notice of RN license must be received by mid-July). Each meeting site is limited to 30 students. The program starts a new group every fall semester (once a year).
Program applications for Fall 2019 are being accepted now. APPLY HERE
Credits required for RN-to-BS major: 36 credits – view catalog for requirements. Additional credits to fulfill the BS degree may be required, based on outcome of transfer.
Credits required for Bachelor of Science degree: 120 credits minimum, including 40 upper-level credits overall.
Delivery options: Blended delivery, mostly online courses with some on-campus meetings. Meeting site choices include:
Bemidji State University – Bemidji
Anoka-Ramsey Community College – Coon Rapids or Cambridge
Century College – White Bear Lake
Lake Superior College – Duluth
Northland Community and Technical College – East Grand Forks
More info: Check out the FAQ document here. Graduates of our RN-BS program are eligible for Public Health Nurse registration. Learn more at the Nursing Department web site.
Ready?