Registered Nurses: Earn your BSN as quickly as ONE YEAR!
Qualify for new positions: "43.2% of hospitals and other healthcare settings are requiring new hires to have a bachelor's degree in nursing, while 82.1% of employers are expressing a strong preference for BSN program graduates". American Association of Colleges of Nursing
Earn more:

The nation's Magnet hospitals, generally recognized as the best hospitals, give hiring preference to BSN nurses.  To be a nursing manager or leader at a Magnet hospital, an RN must have a bachelor's degree.

Get promoted: The Veteran's Administration (VA), the nation's largest employer of RNs, requires a baccalaureate degree for promotion beyond entry-level.
Become a better nurse. Learning topics include community and family nursing, information management, policy, education, and research designed to complement the technical RN training you've already accomplished.
We're Top 25: BSU's RN-BS program was recently ranked 2nd best online RN-BS program in Minnesota, and 23rd nationally by RegisteredNursing.org.
Bemidji State's program is online,
flexible, and rewarding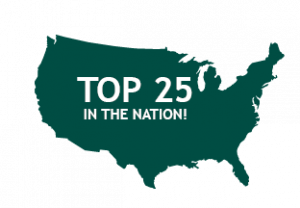 Online delivery: Course instruction is completely online with the option to attend class sessions via Zoom, or watch recordings on your own time.
Flexible: You may enroll full-time, part-time, or at whatever pace fits your schedule. View the 2021-2021 course schedule.
Experienced nurses can save $1,000:

Contact the BSU Nursing Department to learn about earning credit for your experience.
Apply Today  To enroll in the RN-BS track: 
Once admitted to BSU, you may apply here for the RN-BS Nursing Major Program.