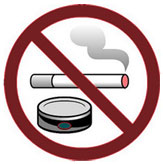 This webpage provides information about Bemidji State University's Tobacco Free Campus policy.
View the current BSU Tobacco Free Campus Policy.
The rationale for the policy follows.
The Tobacco-Free Campus Policy is about respect for self, others and the environment. The rationale does not include reducing the number of smokers.
The health of students, faculty and staff at Bemidji State University is an essential component of the success of the institution.
A tobacco-free campus policy supports the institution's signature themes (environmental stewardship and civic engagement) as well as its strategic directions (i.e., students' personal well-being).