Modern technology and traditional culture meet in unique exploration of native flutes
A unique new course at Bemidji State University is allowing students to merge music, Native American culture and technology through an in-depth exploration of traditional native flutes.
The class, led by adjunct instructor and musician Jon Romer, teaches students how to play a flute, or "bibigwan,"
while weaving in elements of Native American culture and Ojibwe language, art and history.
Romer says that while the course started as a hands-on way to explore traditional music, students — which include BSU faculty and staff and community members eager to learn new skills — are instead using the experience to build bridges with each other.
"The idea for the class started with the flute — and the flute grew legs," Romer said. "The class has become about so much more than music."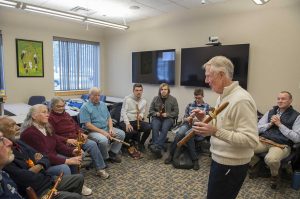 The course stemmed from conversations between Romer, Dr. Jim Barta, dean of the College of Arts, Education and Humanities, and Ann Humphrey, assistant director of the American Indian Resource Center, about ways academic programming could help intertwine Native American culture into BSU's everyday life.
Humphrey says music — and by extension the flute — is an ideal vehicle to achieve this goal.
"People can connect with music no matter what," she said. "It's the universal language that brings us all together. It's easy to relate to — between cultures, between people. Music meets us where we are."
In addition to learning to play the flute, students are manufacturing their own instruments under the guidance of BSU's School of Technology, Art and Design (TAD).

TAD School students David Harris and Riley Pettit, along with Assistant Professor David Towley, helped the class build flutes from a solid block of wood. Students hollowed out the barrel, shaped the flute's sides and mouthpiece and applied finishes and ornaments to create a finished product of their own.
Shyron Sawyer, a junior indigenous studies major from Barnum, said while the flutes were built using modern technology, they remain true to traditional construction guidelines.
"In traditional Native American flute making, you use your body to measure each part of the flute," he said. "For example, the flute should be as long as your arm with each one of your fingers fitting on the wood between each of the finger holes."
After creating their flutes, students worked to personalize them with decorative designs and a unique block or totem. This block, which helps create a flute's sound by moving air into its sound chamber, is tied to the flute's head with a strap and influences each flute's unique sound.
"The flutes are alive," Barta said. "Each flute is created a bit differently and sings a little bit differently. The blessing of the first sound is really exciting. After we make them, we wonder what they will sound like when we put that first breath into them. It's priceless."
Traditionally, blocks are carved into songbirds to symbolize the beauty of the music they create. However, BSU students chose a variety of different blocks ranging from traditional to symbolic — including birds, beavers and sentimental infinity symbols.
The variety of symbols was representative of the different ways students are choosing to bring music and elements of Native American culture into their lives as a result of the course. Sawyer, for example, took a personal approach and composed a ballad inspired by trees visible through the window of his room.
"I wrote a song by following the tops of the trees," he said. "I looked out a window in my dorm and followed the line of the treetops. When the treetops went up, I went up a note. When the treetops went down, I went down a note. It lets me listen to the trees. For me, I believe music comes from your blood memory, your soul. It is so powerful. You don't know where it's coming from, but it's just coming."
Romer hopes each of his students will gain that same ability to see the harmonies in all things and have an increased knowledge of Native American traditions that have withstood the centuries.
"That's my goal — to open to the door of culture and music a little wider for everyone."
---
By Carissa Menefee