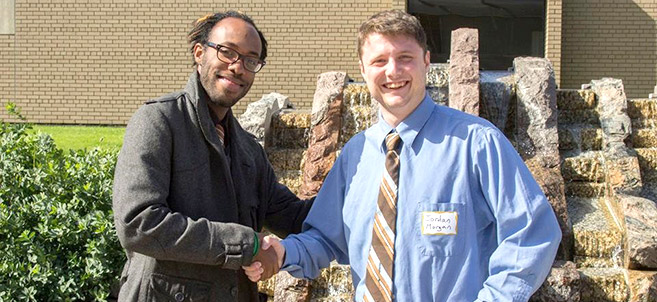 A pair of Bemidji State University seniors presented their work at the Sociologists of Minnesota annual conference in September.
Philadelphia native and sociology major Kenneth Bentley presented his senior capstone work, "A Sociological Exploration of Cultural Appropriation of Hip Hop Culture." Jordan Morgan, a double major in sociology and environmental studies from St. Peter, Minn., revisited his unique 2016 spring break experience in Louisiana in "Sustaining Ecosystem Services through Coastal Restoration Initiatives."
The conference, held Sept. 29-30 on the campus of St. Cloud State University, featured a mixture of panels, oral presentations, workshops and poster presentations with a keynote presentation by Jaylani Hussein, director of the Minnesota chapter of the Council of American-Islamic Relations. The conference provided senior undergraduate students who wish to continue their studies in graduate school with an opportunity to gain experience presenting research and applied coursework. Morgan and Bentley were the only undergraduates presenting at the conference.
"This conference is a place where leaders congregate to discuss pervasive problems that exist, and imagine a tomorrow where such problems are non-existent," Morgan said. "And, most importantly, it lets us ponder on what the road map to that imagined tomorrow would look like."
The students were accompanied by Dr. Carla Norris-Raynbird, associate professor of sociology, gender and women's studies, and Dr. Janet Moen, adjunct instructor of sociology.
Bentley's project included an original survey and interview research completed in Spring 2016. His research explores the blending of American culture and the ways media can affect socialization processes. Bentley used hip-hop culture as his basis and worked in the style of Wendy Griswold, professor of sociology at Northwestern University who has done research on cultural sociology with a focus on the arts and religion.
"Hip-hop is my musical love," Bentley said. "The culture, everything about it. Having moved to Bemidji, I realized that the demographic that listens to Hip-Hop greatly differs from what I am used to, coming from an urban, highly populated area. I feel as though there has been a lot of separation in terms of race relations, and cultural expression, and I feel as it is my duty to help bridge that gap."
Bentley says the project is part of a larger aspiration as not only be the first person in his immediate family but also the first to pursue a doctoral degree.
"Truthfully, I think Dr. Bentley sounds pretty awesome, so that's one main inspiration. And I want to be a contributor to the field — I feel as though there is a lot to be said."
Morgan traveled with a small group from Bemidji State to New Orleans to perform service work in the city's 9th Ward. There, he explored the many differences between fresh-water and marine wetlands, and he is now working to teach others how coastal health and restoration is nationally important to our culture and economy.
For both students, the Sociologists of Minnesota conference represented another important milestone on their paths from undergraduates at BSU to a future in graduate school.
"This will be my third conference that I'll be attending, and what this conference means to me is landmark in my academia career," Bentley said. "Never would I have thought, especially five or six years ago, that I will be in this position to speak and share my personal story and research."
For Morgan, the conference supported both his growing interest in the connections between sociology and environmental studies and, like Bentley, his journey to become the first in his family to complete a graduate degree.
"I am still hungry for more knowledge on how I can do my part to create a better world," he said. "To maximize my potential positive sociological impact, graduate school is a necessity. And, I aspire to make my family proud by becoming the first graduate school alumnus in my family."
Contacts
Links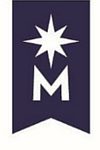 Bemidji State University, located in northern Minnesota's lake district, occupies a wooded campus along the shore of Lake Bemidji. A member of the colleges and universities of Minnesota State, Bemidji State offers more than 80 undergraduate majors and 11 graduate degrees encompassing arts, sciences and select professional programs. Bemidji State has an enrollment of approximately 5,000 students and a faculty and staff of more than 550. University signature themes include environmental stewardship, civic engagement and global and multi-cultural understanding.
---
2017-B-L-021