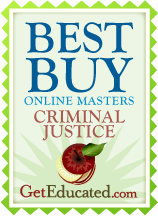 Bemidji State University's online bachelor's degree program in criminal justice has been listed as one of the most affordable in the country in a survey done by GetEducated.com.
Bemidji State's program received a B rating and was ranked 16th nationally on the GetEducated list of 25 most-affordable schools with an estimated total cost of $37,196.
A Get Educated Best Buy award indicates that an online program has been independently reviewed and found to offer a high-quality, accredited online bachelor's degree in criminal justice at a cost that ranks well below the national average.
Rankings are based on a spring 2014 review of regionally accredited criminal justice bachelor's degree online programs. Tuition and fees stated were valid at the time of collection and are specific to the online learning program. The published cost is an estimated sticker price for the entire degree and typically reflects the most affordable online degree option. Actual costs vary by student. Factors such as transfer credits, prerequisite courses, professional licensing and financial aid availability will affect final cost.
Get Educated is a consumer group that provides fact-based comparative data on 3,405 accredited online degrees as a service to help students locate the highest-quality online education programs in selected career areas. Around 1.5 million online students visit GetEducated.com each year seeking advice on online degree programs.
Links
• Get Educated
• Best Affordable Criminal Justice Bachelors Degree Online