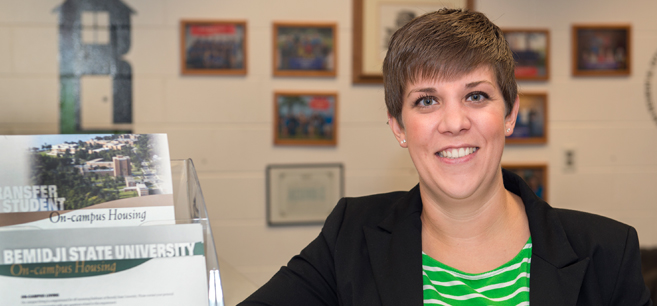 When classes kick off at Bemidji State University this fall, a new face will be overseeing residential life for the first time in decades. Dr. Jodi Monerson was named BSU's director of residential life in June; she succeeds Dale Ladig, who had been at BSU for 34 years. Monerson comes to BSU looking forward and seeking ways she can put her experiences to work helping students find a home where they can relax, be surrounded by supportive friends and learn new things by involving themselves in a welcoming campus community.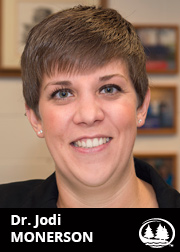 Monerson went to Winona State University intending to be a teacher. However, her own experiences as a resident assistant and the relationships she built with the RAs and other staff in her buildings convinced her to choose a different path.
"It started with my first year in college, when I met my RA," she said. "I started helping her with programs and getting involved in the building, and it was then that I knew I was going to continue at Winona State. It was that experience — more so than being in classes — and that sense of connection that made me know 'this is where I'm going to graduate.'"
That early sense of connection and her adventures through the Winona State residential experience have blossomed into a career that is well into its second decade.
She got her start by spending several years as an RA and working in a variety of desk assistant roles in WSU's housing office and residence halls. After graduation, she spent a few months in the Twin Cities as a preschool teacher, but realized her calling was back on a college campus.
"I was going to be a teacher — my whole life that's what I always wanted to do," she said. "But as soon as I was teaching, I wanted to go back to college and be in residential life. So this really altered my perceptions of where I wanted my career to go, and this is what I want to do."
She found herself with an opportunity to return to Winona State as a residence hall director. From there, she was later promoted into an area coordinator position overseeing multiple residence halls, home to approximately 750 students. She later was named a program development coordinator at Winona State, where she worked primarily with non-traditional students on the academic side of campus.
At Bemidji State, she saw the opportunity to get back to her roots and be more closely involved in shaping the residential experience of undergraduate students. She found BSU's small-campus environment, while still having the advantages that come from being a member of a large state system like MnSCU, to be a perfect fit.
"I like working at state institutions and I like working within MnSCU," she said. "I'm excited about the system-wide collaboration that takes place and having that connection with the other directors across the system. And I like that Bemidji State is a smaller campus. Life around here is beautiful; I have really enjoyed getting outside and exploring the town and the community. It just seems like a good fit, which is a great feeling."
Having already felt her own connection to the campus and to the city of Bemidji, Monerson said she hopes to be able to bring that same sense of community to BSU's resident students.
"I want people to feel that connection," she said. "I want people to feel excited about going back to their room when they're done with classes, and I want them excited to be here on weekends and explore what Bemidji has to offer."
Most of all, Monerson is excited to learn and to forge lasting relationships with Bemidji State students.
"I look forward to helping our students in any way I can," she said. "I want our students to have a good experience, whether they're on campus or if they've moved beyond the residence halls and live off campus. I'm just here to help students; I have an open door for them to stop by and get to know me, and if there's anything I can do to help I'm glad to do that."