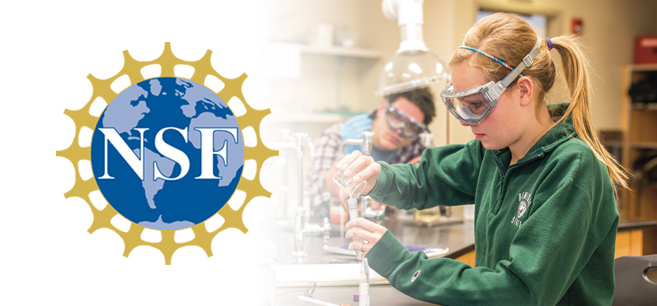 Bemidji State University has received nearly $623,000 from the National Science Foundation that will fund scholarships for BSU students majoring in programs related to science, technology, engineering and mathematics.
The grant creates a program that will provide recurring $9,200 annual scholarships for a minimum of 22 students over a five-year period.
Ten scholarships will be available during the first year of the program — six for freshmen, two for sophomores and two for juniors. The program adds scholarships for one freshman in the second year, three in the third year, two in the fourth year and four in the fifth year.
"There have been extensive discussions regarding how we could recruit and retain the best students," said Dr. Todd Frauenholtz, professor of mathematics and BSU's principal investigator for the grant program. "Faculty of the STEM majors believe targeting a higher number of freshman and providing continuing scholarships is the best use of these funds."
The scholarships will be targeted toward students with interests and abilities in STEM fields, demonstrable financial need and to students who are traditionally under-represented in STEM-related programs. BSU also hopes the scholarships will encourage an increase in the number of students in STEM-related majors. The university had 139 students in STEM-related majors in the fall of 2011 and hopes to see that number grow by 10 percent.
The scholarships also will help spearhead the creation of support programs specifically targeting students in STEM majors. The university plans to create a STEM Scholars Learning Community that includes peer-to-peer networking and more direct mentoring opportunities with BSU faculty.
"We're hoping the program could meet twice a month, so these students can see there are other students just like them who may not be typical STEM students, but are in STEM majors and are also on these scholarships," Frauenholtz said.
Frauenholtz said the program will begin offering scholarships during the fall of 2015.
"For freshmen who can get into the program, if they can stay eligible for all four years, they could receive more than $36,000 in scholarships," he said. "This is a great opportunity for students."
Applications for BSU's National Science Foundation STEM scholarships will be administered through the Office of Admissions.
Contact
• Dr. Todd Frauenholtz, professor of mathematics; (218) 755-2817
• BSU Office of Admissions & Scholarships; (218) 755-2040; (877) BEMIDJI; admissions@bemidjistate.edu