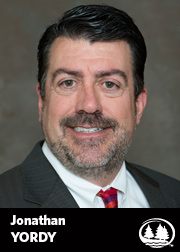 Jonathan Yordy brings extensive knowledge of and commitment to higher education to the role of chief development officer for the Bemidji State University Foundation.
"We are excited to have Jonathan join our staff as the leader of our development team," University Advancement Executive Director Rob Bollinger said. "He brings a wealth of experience and expertise to the BSU Foundation, which will be instrumental in our efforts with the Imagine Tomorrow campaign and future development efforts."
An advancement professional who has counseled university presidents and chancellors at several schools throughout the Midwest, Yordy describes himself as a product of a quality public education who has a passion for lifelong learning.
He gained experience as vice president for university advancement and executive director of the Missouri Western State University Foundation in St. Joseph, Mo.; executive director for major gifts at Lewis University in Romeoville, Ill.; coordinator of public relations and fundraising at University of Missouri-St. Louis; among other positions. In addition, he has lectured and taught at schools in Wisconsin and New York and written works for scholarly publication.
A summa cum laude graduate of University of Illinois Urbana-Champaign, Yordy went on to earn a doctorate in English from the State University of New York at Buffalo.
Yordy looks forward to building relationships and advancing the BSU Foundation's mission. His success working on fundraising campaigns at other institutions positions him well to continue advance BSU's Imagine Tomorrow comprehensive campaign to raise $35 million to create opportunities for future success at BSU.
"Great things are happening at Bemidji State University, supported by a forward-thinking Foundation board," he said. "I am excited to be joining the team entrusted with raising funds that will make a difference in the lives of current and future BSU students."
Yordy's office is located in the David Park House on Birchmont Drive across the street from the BSU campus.
Contact
• Maryhelen Chadwick, communications & marketing specialist, BSU Foundation; (218) 755-2122
• Jonathan Yordy, chief development officer, BSU Foundation; (218) 755-4145