A Bemidji State University student is included in a video that will be played for world leaders gathering this week at the United Nations.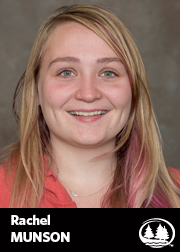 Rachel Munson, a senior history major from Bemidji, submitted a video as part of a 24-hour crowdsourced video project done by ONE, a global organization of activists and advocates which works to raise awareness of poverty and preventable disease.
The organization partnered with Richard Curtis, founder of Comic Relief and a director of Hollywood films such as Love Actually and Four Weddings and a Funeral, to ask people from all over the world to submit their answers to the question, "What kind of world do you want to live in by 2030?"
"I decided to submit a video because I'm president of BSU's ONE Campus Challenge, and I'm doing an internship with ONE this semester and I figured it would be a good way to get involved," she said.
Hundreds of participants from all over the globe, including Mashable founder Pete Cashmore and actor Idris Elba, submitted videos, and ONE released its compilation, featuring an excerpt from Munson's submission, on Sept. 22.
"I watched it," she said when asked how she found out her video had been chosen for the project. "That was fun. I was not expecting to see my face. I felt like I had been chosen as a representative for this student movement across the United States. There were other students in the video, but the fact that I was the one in the video who said 'I'm a student,' you know, that was cool."
Munson helped found the BSU student chapter of ONE in 2012. It is one of 155 ONE chapters at colleges and universities all across the United States, and one of three chapters in Minnesota.
"We've accomplished a lot," Munson said. "We registered upwards of 200 students to vote in 2012, and we have collected more than 500 postcards and letters that have been sent to President Obama and various representatives from throughout the United States."
She hopes BSU's ONE Campus Challenge group can continue to bring the fight against global poverty home to Beltrami County.
"I want to make some noise," she said. "I want the BSU student body, and also the faculty and staff, to understand and believe that extreme poverty can be eliminated from the world by 2030. And it can be — we just need people to understand what's happening."
About ONE
ONE is a grassroots advocacy and campaigning organization that fights extreme poverty and preventable disease, particularly in Africa. It raises public awareness and pressures political leaders to support smart and effective policies and programs that are saving lives, helping to put kids in school and improving futures. Cofounded by Bono and other campaigners, ONE is nonpartisan and works closely with African activists and policy makers.
Contact
• Rachel Munson, president, BSU ONE Campus Challenge
Links
• ONE
• ONE: "What Kind of World Do You Want to Create?" video
• Munson's video submission on YouTube
• ONE at BSU on Facebook