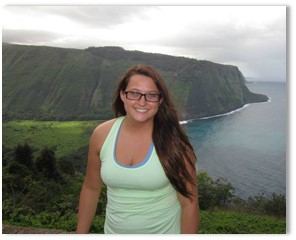 Bemidji State University senior Alexandra Miller has been selected as a representative of the new National Wildlife Federation EcoLeader program.
Miller, an environmental studies major from Bemidji, recently organized a project for BSU's residence hall Move-In Day, providing water for students and their families. When BSU's dining services wasn't able to provide enough cups for everyone, Miller rallied BSU's Sustainability Committee, Dining Services and the Sustainability Office to purchase 2,000 American-made cups from a local supplier.
"This was a very successful project that brought together three groups to make a positive change for Bemidji State University," Miller said.
The National Wildlife Federations Campus Ecology program has been working with colleges and universities for more than 25 years to protect wildlife and habitat through campus sustainability efforts. By recognizing that students are the catalysts for change, NWF Campus Ecology has created NWF EcoLeaders Initiative — an online community that offers students the space to create, share and be recognized for their leadership efforts and for sustainability projects and campaigns. The EcoLeaders initiative envisions a future in which all wild creatures and natural areas are protected and thriving, and in which all people have the opportunity to live healthy, prosperous and fulfilling lives.
Miller has been working with BSU's Sustainability Office since her freshman year. Erika Bailey-Johnson, BSU's sustainability coordinator, describes Miller as a dedicated and passionate worker.
"She has fabulous work ethic that will serve her well in the lucky career path she chooses," Johnson said. "I wish I could hire her."
The Sustainability Office serves as a facilitator in the university's move towards sustainability, making Bemidji State a more ecologically and economically sustainable campus community. The office is responsible for the education, communication, planning and management of environmental issues on campus and also participates extensively in community environmental initiatives.
BSU senior recognized by National Wildlife Foundation EcoLeader program
• Bemidji |56601| Alexandra Miller, senior, environmental studies
Contact
• Erika Bailey-Johnson, BSU sustainability coordinator; (218) 755-2560
Bemidji State University, located in northern Minnesota's lake district, occupies a wooded campus along the shore of Lake Bemidji. Enrolling more than 5,000 students, the University offers more than 50 undergraduate majors and nine graduate programs encompassing arts, sciences and select professional programs. The University is a member of the Minnesota State Colleges and Universities system and has a faculty and staff of more than 550. University signature themes include environmental stewardship, civic engagement and global and multi-cultural understanding.