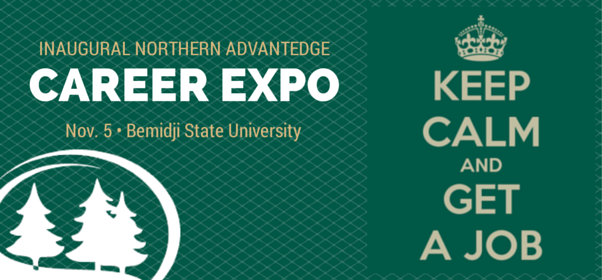 On Wednesday, Nov. 5, over 1,200 students from 15 different high schools will have the chance to explore future career options with 50 businesses when Bemidji State University hosts the inaugural Northern AdventEdge Career Expo.
Businesses will be available to promote career opportunities through hands-on interactive exhibits. Made possible by BSU, Northwest Technical College and the Northwest Minnesota Foundation, the expo is an educational activity designed for high school students who are beginning to explore career paths related to employment opportunities in north-central Minnesota. Through this event, participants will not only be exposed to career opportunities in the region but also to the educational and training programs designed to prepare them for those careers.
The event will be divided into morning and afternoon sections. Each student will spend about three hours on campus and will participate in two breakout sessions related to their career interest. They will also spend an hour on the arena floor of the John S. Glas Fieldhouse to participate in hands-on exhibits.
Contact
• Duane Biehn, associate director of campus recreation, Bemidji State University; (218) 755-4140
About Bemidji State University Bemidji State University, located in northern Minnesota's lake district, occupies a wooded campus along the shore of Lake Bemidji. Enrolling more than 5,000 students, the University offers more than 50 undergraduate majors and nine graduate programs encompassing arts, sciences and select professional programs. The University is a member of the Minnesota State Colleges and Universities system and has a faculty and staff of more than 550. University signature themes include environmental stewardship, civic engagement and global and multi-cultural understanding.