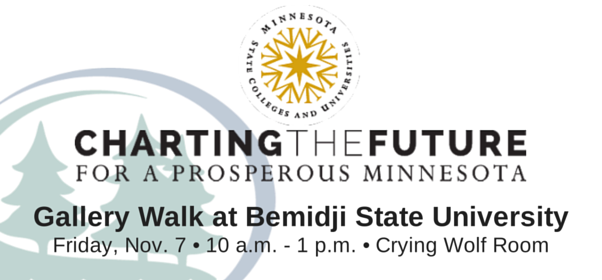 The Minnesota State Colleges and Universities system's Gallery Walk tour will visit Bemidji State University on Friday, Nov. 7.
The Gallery Walk, an open house-style event intended to promote feedback on the progress of the system's Charting the Future initiative, will be held from 10 a.m. to 1 p.m. in the Crying Wolf Room of BSU's lower Hobson Memorial Union.
The exhibition will illustrate what has been achieved so far by the four Charting the Future implementation teams that began their work in the spring:
• Diversity
• Student Success
• Comprehensive Workplace Solutions
• System Incentives and Rewards
The Gallery Walk is an open house-style event for everyone at Bemidji State to share insights, concerns and ideas. Representatives from the system office and members of each of the four implementation teams will be on hand to provide feedback on the work done by each group and to listen to questions, concerns and feedback from those in attendance.
For a preview of what will be displayed during the event, there is an online version of the Gallery Walk at the system's Charting the Future blog.
More than 1,600 people have visited CTF Gallery Walks since the system-wide tour began Oct. 16 at Pine Technical College in Pine City.
About Bemidji State University Bemidji State University, located in northern Minnesota's lake district, occupies a wooded campus along the shore of Lake Bemidji. Enrolling more than 5,000 students, the University offers more than 50 undergraduate majors and nine graduate programs encompassing arts, sciences and select professional programs. The University is a member of the Minnesota State Colleges and Universities system and has a faculty and staff of more than 550. University signature themes include environmental stewardship, civic engagement and global and multi-cultural understanding.