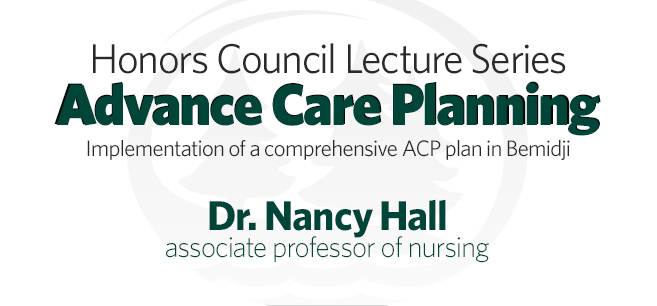 As healthcare improves, Americans are living longer and often with chronic illness. Treatments intended to extend life can sometimes result instead in prolonging the dying process. Dr. Nancy Hall, associate professor of nursing at Bemidji State University, will discuss how these factors play into decisions regarding life-sustaining healthcare as part of BSU's Honors Council Lecture Series.
Hall's presentation, "Advance Care Planning, Implementation of a Comprehensive ACP Program in Bemidji," will be held Nov. 13 at 7 p.m. in Hagg-Sauer 107. Honors Council lectures are open to everyone free of charge.
"One study of Americans older than 60 years of age reported that 70.3 percent of those who required treatment decisions at the end of life were unable to make those decisions themselves," Hall said. "When uncertainty exists, healthcare professionals default to aggressive treatment, often resulting in less quality of life for patients and the experience of regret and depression for caregivers following the death."
Hall says surrogate decision makers find their role more stressful and burdensome when they do not have information about a patient's preferences for care.
"The Patient Self Determination Act (1990) was intended improve our ability to provide care consistent with preferences at the end of life through the use of advance directives," Hall said. "These have not successfully provided for consistently available information about well-informed preferences for care at the end of life."
Patient-centered advance care planning and Provider Orders for Life Sustaining Treatment programs have evolved as methods to provide thoughtfully considered and well-informed preferences to guide care decisions at the end of life, Hall said.
One model of advance-care planning being implemented in the Bemidji area is Respecting Choices. This project involves system-wide changes in healthcare delivery which has advantages for patients, their decision makers, healthcare providers and the community.
"Comprehensive advance care planning provides an ethically sound method of addressing many of the challenges facing those at the end of life," Hall said. "End-of-life medical care will be consistent with stated, well-considered preferences; healthcare agents will be involved in ensuring residents' preferences are honored; healthcare providers will have clear, reliable documentation to inform care at the end of life; and scarce resources will not be used to provide care that is unwanted and unlikely to be effective."
About Dr. Nancy Hall
Dr. Nancy Hall, associate professor of nursing at Bemidji State, has held a variety of nursing positions in home-care and acute-care settings and in staff nurse, management and education positions. She has experience in palliative and hospice care and is certified as a facilitator and trainer for Provider Orders for Life-Sustaining Treatment programs. She has been an active member of the Bemidji Area Advance Care Planning core team, which has received grant support from Northwest Minnesota Foundation, Sanford Health and Minnesota Department of Human Services.
Hall earned her bachelor's degree in nursing from the College of St. Teresa, and her master's degree in nursing from the University Minnesota. She earned a doctorate in nursing practice from Winona State University.
About the Honors Council Lecture Series
The Honors Council Lecture Series is hosted by the Bemidji State University Honors Council. The council is the advisory group to the honors program composed of 12 faculty members representing each of the university's colleges. Student representatives are also elected to the council by their cohorts for one-year terms.
Contacts
• Kari Caughey, BSU honors program; (218) 755-3984, kcaughey@bemidjistate.edu
• Dr. Nancy Hall, associate professor of nursing; (218) 755-3869, nhall@bemidjistate.edu
Bemidji State University, located in northern Minnesota's lake district, occupies a wooded campus along the shore of Lake Bemidji. Enrolling nearly 5,000 students, the University offers more than 50 undergraduate majors and nine graduate programs encompassing arts, sciences and select professional programs. The university is a member of the Minnesota State Colleges and Universities system and has a faculty and staff of more than 550. University signature themes include environmental stewardship, civic engagement and global and multi-cultural understanding.