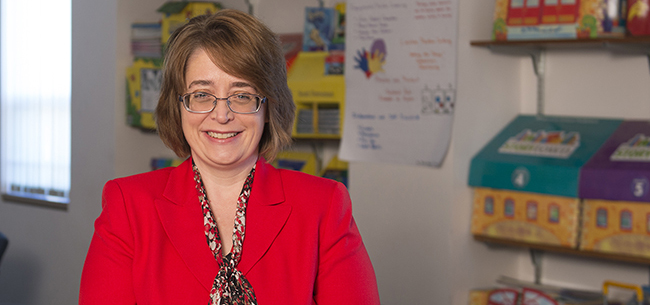 Bemidji State University has received a grant of nearly $50,000 from Riverside Publishing that will allow students to administer a newly revised version of an industry-standard achievement assessment test.
The grant, part of Riverside's University Outreach Program, will provide BSU's special education program with 25 testing kits for the fourth edition of the Woodcock-Johnson Tests of Achievement Assessment. The testing kits have a retail price of almost $2,000 each, and BSU is one of 120 colleges and universities receiving them as part of the grant program.
"With this test, we're able to find the gaps a student has in reading and math," said Dr. Rachele Schafer, assistant professor of professional education. "But if a child comes to us and needs help in math, we can use this assessment to find out where those gaps are."
Woodcock-Johnson IV assessment
The Woodcock–Johnson test is a set of intelligence assessments first developed in 1977 by Richard Woodcock and Mary E. Bonner Johnson. The test can be administered to children from age two and is applicable to the oldest adults in their 90s. It was revised in 1989, in 2001 and again in 2014.
The fourth edition provides three independent batteries which test cognitive abilities, oral language and overall achievement; these batteries can be used independently or in any combination.
The test emphasizes the identification of strengths and weaknesses by providing comparisons both within each battery and across batteries to help examiners evaluate learning problems. Schafer says the test provides a number of sub-tests under the overall reading and math categories that can be combined in customizable ways, allowing the test to be tailored to a specific student.
"You can choose subtests that go together for what a student is having problems with and see if the test will help him find the right strategies to learn," she said. "And as a result, we're not doing six hours of testing, but can be done in an hour or an hour and a half and have data in an online dashboard for everyone to share."
In addition to providing valuable training for special education teacher candidates who are studying at BSU, Schafer says that the university's participation in the University Outreach Program will allow it to serve an important role as a training center for special education-focused educators throughout the region.
"This is going to be a benefit to the kids and the community. I see how amazing this is going to be to help all of our teachers and all of our schools, because we'll have these kits to train them," she said. "We can train our students, but if we can also train people who are already licensed we can play more with the sub-tests offer more advanced courses, going deeper and making things more exciting."
Riverside Publishing University Outreach Program
Riverside Publishing's University Outreach Program offers training copies of several of its most-widely used clinical assessments for use in graduate-level assessment courses. The reusable test kits are free from all cost for use in student training, and educational institutions are offered substantial discounts on consumable record forms.
Contact
• Dr. Rachele Schafer, assistant professor of professional education; (218) 755-4046, rschaffer@bemidjistate.edu
Links
• Woodcock-Johnson test on Wikipedia
• An overview of Woodcock-Johnson IV at Riverside Publishing
Bemidji State University, located in northern Minnesota's lake district, occupies a wooded campus along the shore of Lake Bemidji. Enrolling nearly 5,000 students, Bemidji State offers more than 50 undergraduate majors and nine graduate programs encompassing arts, sciences and select professional programs. BSU is a member of the Minnesota State Colleges and Universities system and has a faculty and staff of more than 550. University signature themes include environmental stewardship, civic engagement and global and multi-cultural understanding.