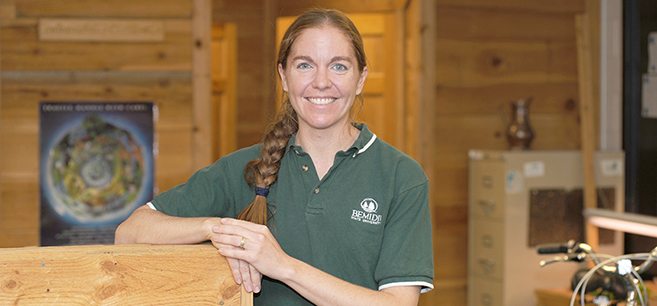 Erika Bailey-Johnson, sustainability coordinator at Bemidji State University, has been selected as one of Prairie Business Magazine's top 40 business professionals under the age of 40 who exemplify a high level of talent in the upper Midwest region.
"I'm really honored, but it's pretty easy to do good work when you love where you live, love where you work, and have an amazing support network," Bailey-Johnson said. "I feel pretty fortunate to have found my passion and calling in life. I feel so lucky to be where I'm at."
The 40-under-40 list was included in Prairie Business Magazine's December 2014 issue, released on Nov. 28.
"This year, we received hundreds of nominations from throughout the region for our annual 40 under 40 list," said Prairie Business Magazine Editor Kris Bevill. "Erika's nomination stood out because it was clear to us she is dedicated to her profession and to contributing her skills to the betterment of the greater Bemidji community. She sets an example for other professionals to follow, regardless of age, and we are proud to honor her as one of the top 40 young professionals in the northern plains."
Since helping found one of Minnesota's first campus sustainability offices at Bemidji State University in 2008, Bailey-Johnson has helped guide a culture shift toward sustainability and conservation, not only on campus but also throughout the entire Bemidji region.
She has guided a number of significant conservation and green-energy initiatives on campus, including the installation of solar-transpired air units, water-bottle filling stations, real-time energy usage dashboard kiosks, and increased use of native plants for campus landscaping projects.
In addition to her work at BSU, she helped create the City of Bemidji Sustainability Committee in 2009 and was a leader in the implementation of Bemidji's NiceRide bicycle program, one of the nation's first rural bike-share programs, earlier this year. Her efforts also led to BSU being selected as a host site for a Minnesota GreenCorps member for three consecutive years.
Her work has also helped establish closer partnerships with the Indigenous Environmental Network and the Rail River Folk School, creating a collaborative effort to educate the Bemidji community on sustainable living.
She also teaches a sustainability course and speaks at regional and national conferences on issues including carbon footprint reduction and sustainability integration. Recently, she spoke at the Association for the Advancement of Sustainability in Higher Education Conference in Portland, Ore., about BSU's unique sustainability model, which includes an emphasis on wellness.
Bailey-Johnson spent six years on the Board of Directors of the Rural Renewable Energy Alliance, including two as board chair. She is  a member of the Upper Midwest Association for Campus Sustainability steering committee and will host the association's sixth regional conference at BSU in the summer of 2015.
Bailey-Johnson has a bachelor's degree in biology from the University of Minnesota, Morris, and a master's degree in environmental studies from Bemidji State University.
Contact
• Erika Bailey-Johnson, BSU sustainability coordinator; (218) 755-2560, ebaileyjohnson@bemidjistate.edu
• Kris Bevill, editor, Prairie Business Magazine; (701) 306-8561; kbevill@prairiebizmag.com
Links
• Prairie Business Magazine's 2014 40-Under-40
• 40-Under-40 (PDF download)
Bemidji State University, located in northern Minnesota's lake district, occupies a wooded campus along the shore of Lake Bemidji. Enrolling nearly 5,000 students, Bemidji State offers more than 50 undergraduate majors and nine graduate programs encompassing arts, sciences and select professional programs. BSU is a member of the Minnesota State Colleges and Universities system and has a faculty and staff of more than 550. University signature themes include environmental stewardship, civic engagement and global and multi-cultural understanding.