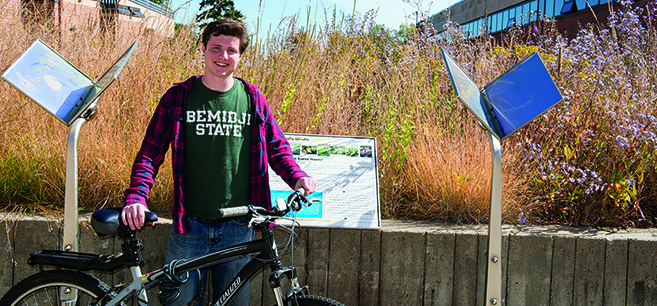 Jordan Morgan, a passionate conservationist and bicyclist, came to Bemidji State University from St. Peter to pursue a degree in environmental studies with a minor in sociology.
He got the opportunity to attend college when he won a $20,000 scholarship from a hometown endowment for students who triumph over hardship while doing well in school.
By the time he was 18, Morgan had been declared an emancipated minor, making him financially independent from his parents before he graduated from high school. A friend's family took him in as one of their own and that first summer introduced him to the Boundary Waters.
"I remember thinking, 'Wow, this is something that I really care about,'" said Morgan, who was impressed by the vast wilderness. "Then when I got the scholarship, the northern woods called me back. I knew I wanted to go to Bemidji. It has an amazing environmental studies program."
Last summer, Morgan became a Doris Duke Conservation Scholar, one of 24 outstanding students selected from a field of 400 applicants. He spent eight weeks studying conservation at the University of Washington.
"It was such a great experience," said Morgan, who was particularly impressed by research related to climate change, wildlife movement and connectivity. "That's where
I want to do my research in the future."
He credits his strong start in college to BSU TRIO, a prep program for first-generation and low-income students. Morgan fit the bill on both counts.
"I took full advantage of everything TRIO had to offer, and that really made the difference," he said. "I don't know if I would have been able to do the same things without it."
Morgan is president of Students for the Environment and a member of the BSU Sustainability Office. He applauds the university's signature themes of multicultural understanding, environmental stewardship and civic engagement. He has also been accepted as a McNair Scholar, a nationwide prep program for graduate school. His goal is to become a college professor so he can do conservation research and mentor others.
"What's unique about Jordan is that he finds the good in any situation," said his advisor Erika Bailey-Johnson, BSU Sustainability Office coordinator. "He's such a positive person, and that has a ripple effect on everyone."
In the face of difficulties, Morgan sees only silver linings.
"I've had really great people in my life – at St. Peter and Bemidji State," he said. "I've been fortunate."