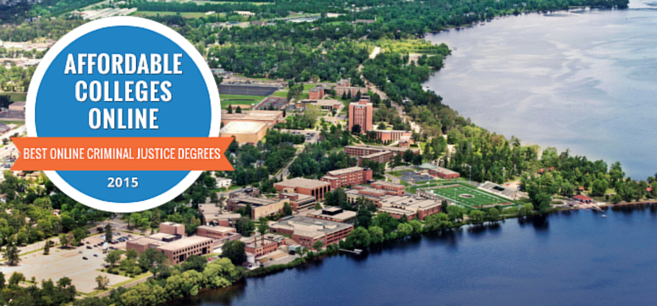 Bemidji State University has one of the nation's most affordable online options for students interested in pursuing a criminal justice degree, according to the website Affordable Colleges Online.
Bemidji State's program ranked 27th on the site's list of 38 high-quality, affordable criminal justice degrees available entirely online. The site examines programs that offer a bachelor's degree or higher at a public or private not-for-profit institution that offer at least one fully online bachelor's degree program. From there, the site scores programs based on a variety of metrics including online tuition rate, student-faculty ratio, graduation rates and a number of other measures.
"Bemidji State's criminal justice faculty take a great deal of pride in delivering a high quality online degree that combines the best of applied and theoretical perspectives," said Dr. Troy Gilbertson, chair of BSU's Department of Criminal Justice. "And, our online courses are taught by the same full-time, campus-based faculty as the residential degree program."
BSU's bachelor's degree in criminal justice is available entirely online; students can also apply credits from an associate's degree and complete their bachelor's degree online. All students receive Minnesota in-state resident tuition rates.
BSU's bachelor's degree is a generalist degree that prepares students for careers in law enforcement, corrections and other public and private agencies concerned with preventing and investigating crime. Completion of BSU's degree satisfies the academic requirements for the Minnesota Peace Officers Standards and Training Board.
BSU also has an active Criminal Justice Club for students.
About Affordable Colleges Online
Affordable Colleges Online provides students with information about affordable higher education options. The website offers financial aid videos, expert advice, and cost savings ideas. AC Online is a trusted resource for college stats and rankings. Most recently the site launched a feature that provides students with a categorized directory of free online introductory, or "101", classes from several top named U.S. universities such as MIT, Michigan and U.C. Berkeley.
Contact
• Dr. Troy Gilbertson, professor of criminal justice, chair, BSU Department of Criminal Justice
Links
• BSU Department of Criminal Justice
• Affordable Colleges Online's affordable criminal justice programs
• List methodology
Bemidji State University, located in northern Minnesota's lake district, occupies a wooded campus along the shore of Lake Bemidji. Enrolling nearly 5,000 students, Bemidji State offers more than 50 undergraduate majors and nine graduate programs encompassing arts, sciences and select professional programs. BSU is a member of the Minnesota State Colleges and Universities system and has a faculty and staff of more than 550. University signature themes include environmental stewardship, civic engagement and global and multi-cultural understanding.