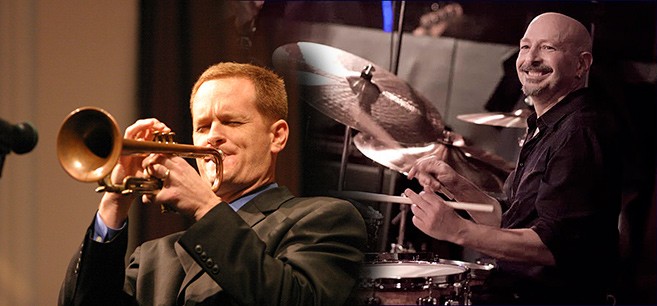 Bemidji State University will welcome Graham Breedlove, trumpeter with Army Blues, and Steve Smith, the former drummer for the band Journey, as lead clinicians for JazzFest 2015.
The BSU JazzFest is a non-competitive, educationally-based festival in which bands perform for about 20 minutes and receive constructive suggestions in a 25-minute session with a pair of camp clinicians. Recent guest clinicians have included Wycliffe Gordon, Jeff Coffin, Trent Austin and Steve Turre, among many others. The three-day festival is one of the largest in the state of Minnesota with about 20 bands attending each year from as far away as Winnipeg, Manitoba, Canada; Grand Forks, N.D., and southern Minnesota.
Guest artists host their own clinics, and sponsors will have instrument clinics and demo instruments available for participating students.
BSU will have opportunities available for students to audition for entry into the music program for fall of 2015. Participants in the festival also will have opportunities to meet with faculty and staff and tour BSU's music facilities, including its state-of-the-art tech lab and suite.
Graham Breedlove
Since taking up the trumpet at age 12 in his hometown of Lafayette, La., Graham Breedlove has performed on four continents in more than 20 countries. Currently, Breedlove is a trumpet soloist with the Army Blues jazz ensemble, part of The United States Army Band, "Pershing's Own" in Washington, D.C. He has appeared as a soloist, composer/arranger or lead player on five CDs with the Army Blues. He holds a bachelor's degree in music from Louisiana State University and a master's degree in music and performer's certificate from Indiana University. Greedlove has performed with headliners representing more than 100 Grammy nominations, including The Saturday Night Live Band, Ray Charles, Wynton Marsalis, Ramsey Lewis, Darius Rucker and Doc Severinsen.
Steve Smith
Steve Smith's professional career began in full in 1974, at 19 years old, with his tenure in the Lin Biviano Big Band. In 1978, Smith was asked to join the famous rock band Journey. While drumming with Journey, Smith began leading his own fusion band, Steve Smith and Vital Information. Smith is also the bandleader of Steve Smith's Jazz Legacy, a group carrying on the tradition of many of the great drummer-led jazz bands; communicating with music lovers of all generations, striving for excellence and playing non-compromising, burning, straight-ahead jazz. In 2001, Modern Drummer magazine named Smith one of the top 25 drummers of all time; in 2002 he was voted into the Modern Drummer Hall of Fame; and the 2008, 2009 and 2010 Drum! magazine readers poll voted Smith #1 Jazz Drummer.
Other clinicians include local pianist Ryan Frane and University of Minnesota-Duluth bassist Adam Booker.
Alumni Band
The JazzFest will bring more than 20 alumni musicians from all over the country back to campus. The group will hold a concert Friday night, Feb. 6. at 9 p.m. at the Elks Club of Bemidji. Tickets are $10 in advance and $15 at the door.
Concert schedule
All of the festival's daytime events are free and open to the public. The evening concerts are ticketed; tickets will be sold at the door for $10. Students can purchase tickets for $5, and BSU and Northwest Technical College students are admitted free with a valid student ID. Both concerts are expected to sell out; persons interested in attending either of the evening performances are encouraged to purchase advance tickets at the BSU Department of Music.
Friday, Feb. 6
Smith, Breedlove, Frane, and Booker will be doing a combo concert on on Friday, Feb. 6 at 7:30 p.m. in the Main Theatre of BSU's Bangsberg Fine Arts Complex.
Saturday, Feb. 7
Bemidji State's Blue Ice will perform with Steve Smith and Graham Breelove beginning at 7:30 p.m. in the Bangsberg Main Theatre.
Contact
• Information and advance ticket sales: BSU Department of Music; (218) 755-2915
• Dr. Del Lyren, professor of music
Links
• Photo gallery from 2014 JazzFest
BSU's JazzFest performers, listed by hometown
Minnesota
Bagley |56621| Andrew White, junior, music; rhythm
Bemidji |56601| Maxwell Duzan, junior, music; rhythm
Brainerd |56401| Jon Crust, senior, music; trumpet
Brainerd |56401| David Phillips, freshman, music; trumpet
Cass Lake |56633| Allison Conner, junior, business administration; baritone saxophone
Cottage Grove |55016| Lavonte Hardie, sophomore, criminal justice; trombone
Gilbert |55741| Taylor Barkdoll, freshman, music; rhythm
Ironton |56455| Cameron Trott, sophomore, music education; alto II saxophone
Ironton |56455| Cassidy Trott, sophomore, music; trombone
Maple Grove |55311| Josh May, junior, music; trumpet
Mounds View |55112| Stephen Martin, sophomore, music; trumpet
Nevis |56467| Brian Bass, junior, music; drums
Nevis |56467| Gabby Karam, senior, music; alto II saxophone
Nisswa |56468| Garret Haglin, freshman, business administration; trumpet
Pequot Lakes |56472| Christian Kurilla, freshman, music education; tenor II saxophone
Pequot Lakes |56473| Mike Newton, freshman, music education; trombone
Slayton |56172| Molly Bass, senior, music education; piano
Scandia |55073| Dan Nelson, sophomore, general studies; guitar
Bemidji State University, located in northern Minnesota's lake district, occupies a wooded campus along the shore of Lake Bemidji. Enrolling nearly 5,000 students, Bemidji State offers more than 50 undergraduate majors and nine graduate programs encompassing arts, sciences and select professional programs. BSU is a member of the Minnesota State Colleges and Universities system and has a faculty and staff of more than 550. University signature themes include environmental stewardship, civic engagement and global and multi-cultural understanding.