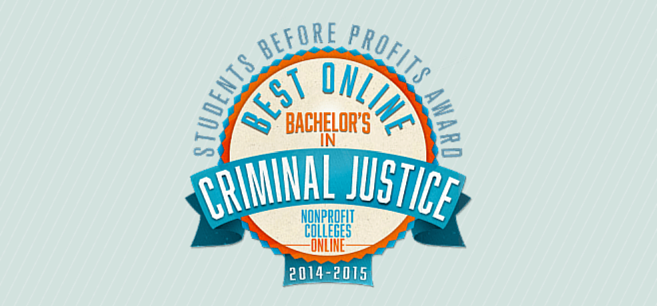 Feb. 10, 2015— Bemidji State University's online bachelor's degree program in criminal justice has been named one of the most affordable online programs in the nation by Nonprofit Colleges Online.
Bemidji State received the site's Students Before Profits Award, which was created to promote nonprofit colleges and universities that offer online degree programs that the site determines "put students before profits and education before the bottom line." The site listed 50 schools in its tuition-based rankings and BSU was listed fourth.
About BSU's online programs
Students in Bemidji State's online criminal justice program have access to the same rigorous, fully accredited degree program as on-campus students. The program is delivered in an engaging and challenging online learning environment that utilizes an innovative learning management suite. Courses are taught by highly credentialed on-campus faculty who focus on giving students personal attention and feedback that will bring the benefits of the classroom to the online experience.
Through BSU's 2+2 program, students can complete the second two years of a four-year degree in criminal justice entirely online. BSU offers a generalist degree program that prepares students for a wide range of careers in law enforcement, corrections or other public and private agencies concerned with the prevention and investigation of crime. Completion of the criminal justice degree satisfies the academic requirements for the Minnesota Peace Officers Standards and Training Board.
BSU offers a variety of online courses and degree programs that can be completed without stepping foot on campus. BSU offers bachelor of science degrees in accounting, elementary education, business administration and criminal justice; bachelor of applied science degrees in technology management and applied engineering; and a RN to baccalaureate program in nursing. BSU also offers online graduate programs in education and special education and launched an online MBA program this spring.
Methodology
Nonprofit Colleges Online selected accredited, nonprofit colleges and universities with lower-than-average tuition rates and then ranked the programs according to their affordability.
About Nonprofit Colleges Online
Nonprofit Colleges Online is devoted to promoting online colleges and universities that put students before profits and education before the bottom line. For a long time the online learning landscape has been dominated by a few corporate owned, for-profit institutions. Nonprofit Colleges Online helps prospective students learn about and connect with schools where they can get a quality online education that puts their needs and success first, not corporate shareholders.
Links
• Best Online Bachelor's in Criminal Justice: Students Before Profits Award 2015
• Bemidji State University Center for Extended Learning
Contact
• Dr. Troy Gilbertson, professor of criminal justice