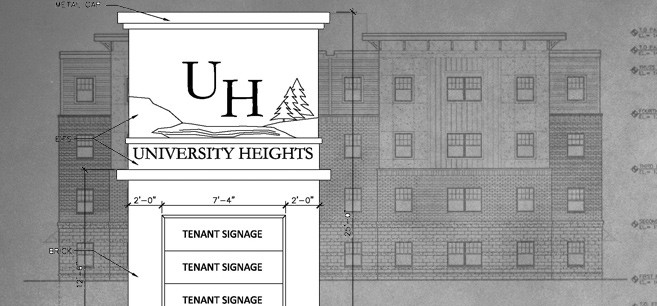 The Bemidji State University Foundation has sold an 11-acre parcel of land in the heart of Bemidji to a local developer, which will break ground on a student housing complex on the property this summer.
Peterson Developers, LLC, owned by John and Trudy Peterson, acquired the property from the BSU Foundation in a sale that closed in mid-January. The land, once home to Bemidji High School, is bordered by Bemidji Avenue on the east and 15th Street on the south.
"Since the property was purchased in 2007, the BSU Foundation board has been interested in selling it to a developer who would use the land to benefit the university," said Rob Bollinger, executive director of the BSU Foundation. "We're excited to work with the Petersons and with BSU to make this project happen."
Peterson Developers will build a modern student residential complex on the property called University Heights. The first building will be open for student residents by August of 2016, and long-range plans call for expansion to four apartment complexes, three of which will include first-level retail businesses, and a series of townhouses.
"Both my wife and mother-in-law graduated from the old high school, and my wife had a lot of attachment to it," Peterson said. "Our focus was to put something back on that site that would make the community proud."
University Heights will debut with a single apartment building on the north end of the property near 18th Street. The four-story structure will have 15 apartment units with individual rooms for a total of 56 students. Construction on the first building is expected to begin this summer and is scheduled to be open for tenants by August of 2016.
The apartments, which will be a mix of three- and four-bedroom units, will include a full kitchen in each unit with two full bathrooms and two additional vanities. The apartments will also feature a washer and dryer in each unit.
A second building, just south of the first, is planned for completion by August 2019. That building will have the same footprint as the Phase 1 structure, but with approximately 6,000 square feet of space for retail businesses on the first floor and three levels of student housing above. The second phase also calls for the construction of 10 townhouses along Minnesota Ave., between 15th and 16th streets.
• Bonus: Gallery of floor plans and architectural elevations for University Heights
While the apartments will be off-campus, BSU's Department of Residential Life will manage the development in a manner similar to the university's on-campus residence halls. BSU will have at least once facility manager on site once the first building is completed, and would collect rent from student residents on behalf of the developer.
"We don't have apartments and are missing that aspect of housing," said Jodi Monerson, BSU's director of residential life. "Our plan is that the residences will be for juniors and seniors. This will let us provide new options for students to stay on campus longer, and will serve a population that we're currently not retaining."
Monerson said that residential life would staff University Heights with one Community Assistant per building, and was still exploring other staffing details.
Peterson says that in addition to providing new living options for BSU students, the retail businesses on the ground floors will benefit everyone who lives in the neighborhoods surrounding the property.
"Once the buildings get going, there will be more community demand for commercial space on the first floors," Peterson said. "Our main focus is to get businesses that people who live near the development will use every day — a grocery store or a convenience store, and we're working on that. This will not only be good for BSU, but also for everyone who lives in that area."
Peterson says concerns about students crossing Bemidji Ave. to reach campus from the complex have been addressed. The Minnesota Department of Transportation has already approved plans for the installation of a High intensity Activated cross WalK (HAWK). The HAWK system has been used in Minnesota since a 2009 installation in St. Cloud and has proven to be safer and more effective than conventional crosswalk designs. It is also more energy efficient and cheaper to install than a traditional traffic signal.
The Board of Trustees for the Minnesota State Colleges and Universities is expected to approve the university's management lease on the development at its March meeting in St. Paul.
The BSU Foundation acquired the land from the Bemidji District 31 School Board in 2007 after two years of negotiations. The board voted unanimously to approve the sale in June of that year, and the sale to the foundation was closed at the end of July. The foundation's $575,000 purchase included three lots of the old Bemidji High School property, which included a vacant lot, a stone maintenance building and the high school's A Building and auditorium.
Contacts
• Rob Bollinger, executive director, BSU Alumni & Foundation
• John Peterson, Peterson Developers, LLC; (218) 760-5515, johnpeterson27@hotmail.com
Links
• Joint Planning Board recommends project approval
Bemidji State University, located in northern Minnesota's lake district, occupies a wooded campus along the shore of Lake Bemidji. Enrolling nearly 5,000 students, Bemidji State offers more than 50 undergraduate majors and nine graduate programs encompassing arts, sciences and select professional programs. BSU is a member of the Minnesota State Colleges and Universities system and has a faculty and staff of more than 550. University signature themes include environmental stewardship, civic engagement and global and multi-cultural understanding.