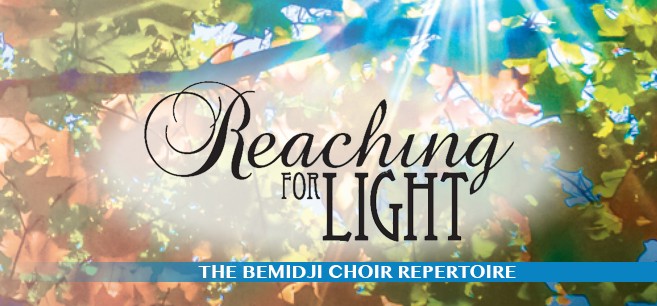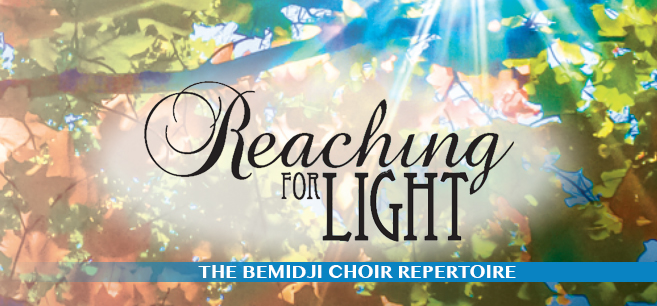 "Reaching for Light," the 16th annual album by Bemidji State University's Bemidji Choir and Chamber Singers, is available for purchase through the Department of Music.
"These annual CDs are a tangible document of the efforts of the choir's members for that specific school year," said Dr. P. Bradley Logan, professor of music and director of the Bemidji Choir.
The 22-track album, which was recorded during the choir's spring concert tour in April of 2014, features 13 songs by the Bemidji Choir and nine by the Chamber Singers. Two selections from the album – one by the choir and one by the Chamber Singers – are available for preview on SoundCloud.
The choir's selections include a Kenneth Neufeld arrangement of Waltzing Matilda and the Josquin des Prez classic Ave Maria. The Chamber Singers' repertoire includes Halsey Stevens' Campion Suite and a pair of John Farmer compositions.
In addition to making copies available for purchase, The Department of Music uses its annual album to promote the choirs and their performers. Copies are shared with high school choral directors in Minnesota and North Dakota, and with selected collegiate choir directors across the country. Each member of Minnesota's All-State Choir also receives a copy.
"Reaching For Light", and each of the choir's previous 15 recordings, are available for $16 through the BSU Department of Music. All proceeds from the sale of the choir's albums go toward the production of future recordings.
Doug Geston, owner of WestMark Productions in Golden Valley, Minn., served as producer and recording engineer for the album.
Contact
• Dr. P. Bradley Logan, professor of music; (218) 755-2918, plogan@bemidjistate.edu
Links
• BSU Department of Music
• WestMark Productions
• Selections on SoundCloud
Bemidji State University, located in northern Minnesota's lake district, occupies a wooded campus along the shore of Lake Bemidji. Enrolling nearly 5,000 students, Bemidji State offers more than 50 undergraduate majors and nine graduate programs encompassing arts, sciences and select professional programs. BSU is a member of the Minnesota State Colleges and Universities system and has a faculty and staff of more than 550. University signature themes include environmental stewardship, civic engagement and global and multi-cultural understanding.