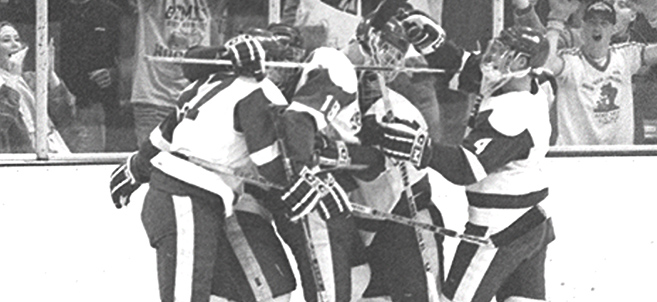 Throughout its storied men's hockey history, Bemidji State University has been simply dominant in conference and national playoff games on its home ice.
Beginning with the 1971 NAIA national championships, Bemidji State has played 34 playoff games on its home ice and posted a record of 27-6-1.
Contained in that storied playoff history has been some of the most exciting hockey. The Beavers have won five of their 13 national championships playing in front of the home faithful in Bemidji, including an NAIA championships in 1971; an NCAA Division III crown in 1986; and NCAA Division II titles in 1984, 1993 and 1997.
The Beavers have won two conference tournament titles in three tries in Bemidji as well, with championships in the 1985 WIHA tournament and the 2009 College Hockey America tournament. The 2009 CHA Tournament featured a historic 3-2 overtime championship-game victory over Robert Morris that propelled BSU into the NCAA Tournament, where it stunned the college hockey world with a dominant Midwest Regional performance en route to its first-ever berth in the Frozen Four.
BSU's home-ice playoff history
| | |
| --- | --- |
| Record | Tournament |
| 2-0-0 | 2009 College Hockey America Tournament |
| 2-0-0 | 1997 NCAA Division II Championship |
| 2-0-0 | 1993 NCAA Division II Championship |
| 2-0-0 | 1989 NCAA Division III Quarterfinals |
| 2-0-0 | 1989 NCHA Tournament |
| 2-0-0 | 1989 NCAA Division III Quarterfinals |
| 2-0-0 | 1988 NCAA Division III Quarterfinals |
| 1-1-0 | 1986 NCAA Division III Quarterfinals |
| 2-0-0 | 1986 NCAA Division III Championship |
| 2-0-1 | 1985 WIHA Tournament |
| 1-0-0 | 1985 NCAA Division III First Round |
| 1-1-0 | 1985 NCAA Division III Quarterfinals |
| 2-0-0 | 1984 NCAA Division II Championship |
| 2-0-0 | 1984 NCAA Division II Semifinals |
| 1-1-0 | 1983 NCAA Division II Playoffs |
| 1-1-0 | 1974 NAIA Championship |
| 1-1-0 | 1971 NAIA Championship |
| 27-6-1 | TOTAL |