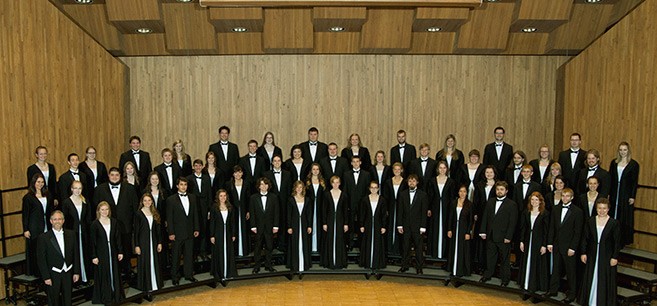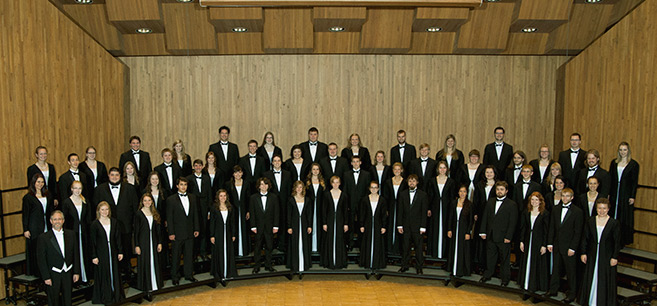 Bemidji State University's Bemidji Choir and Chamber Singers kick off their annual spring concert tour March 25 in Duluth, culminating with a home concert in Bemidji on March 29.
The tour, under the direction of Dr. P. Bradley Logan, professor of music, includes daytime concerts and workshops at high schools, followed by public concerts in the evenings. On this year's tour, the choirs will visit:
• Duluth, Minn. — March 25, 7:30 p.m.; Pilgrim Congregational Church; 2310 East 4th St.
• Minneapolis — March 26, 7:30 p.m.; Christ the King Lutheran Church; 8600 Fremont Ave. S.
• Princeton, Minn. — March 27, 7:30 p.m.; Christ Our Light Catholic Church; 804 South 7th Ave.
• Morris, Minn. — March 28, 2 p.m.; Assumption Catholic Church; 209 East 3rd St.
• Bemidji — March 29, 7:30 p.m.; Bemidji State, Main Stage, Bangsberg Fine Arts Complex
Concerts are free of charge and open to the public. A free-will offering will be taken at each performance to help defray tour expenses.
The choirs will also make several stops at regional high schools for performances and workshops with school choirs. BSU will visit Hibbing High School at 10 a.m. on March 25; Duluth East High school at 10:45 a.m. on March 26; and Hopkins High School at 9:21 a.m. on March 27.
The choirs will record tracks for their annual performance CD during the tour. CDs can be purchased through the Department of Music.
Dr. Brad Logan
Dr. P. Bradley Logan is in his 17th year directing choral activities at Bemidji State. In addition to conducting the Bemidji Choir and Chamber Singers, he teaches conducting, choral studies and applied voice. Before joining the faculty at BSU, he spent time at the University of Montevallo, Louisiana College, California State University Long Beach and Pelham High School. Logan earned his bachelor's degree in vocal music education from North Dakota State University, earned a master's in choral music from Cal State Long Beach and holds a doctorate in choral conducting and literature from the University of Illinois.
The Bemidji Choir
The Bemidji Choir was founded founded in 1937 by Carl O. Thompson and has gained an international reputation for excellence. The choir has toured extensively throughout the United States and Europe and has produced Bemidji State's Madrigal Dinners for each of that production's 45 years. Logan has directed the choir since 1998, leading choir performances at a number of conventions and at Carnegie Hall. Logan also has led the choir on tours in Europe, including performances in Austria, the Czech Republic, Germany, Hungary, Italy, Scotland, Switzerland and England.
The Chamber Singers
The Chamber Singers is an ensemble of 16 singers chosen by audition from The Bemidji Choir. They specialize in literature for small choirs, such as English carols, renaissance madrigals and chansons, and a wide variety of contemporary works. During fall semester the Chamber Singers serve as the Royal Court for BSU's annual Madrigal Dinners.
Contact
• BSU Department of Music; (218) 755-2915
• Dr. P. Bradley Logan, professor of music
Bemidji State University, located in northern Minnesota's lake district, occupies a wooded campus along the shore of Lake Bemidji. Enrolling nearly 5,000 students, Bemidji State offers more than 50 undergraduate majors and nine graduate programs encompassing arts, sciences and select professional programs. BSU is a member of the Minnesota State Colleges and Universities system and has a faculty and staff of more than 550. University signature themes include environmental stewardship, civic engagement and global and multi-cultural understanding.