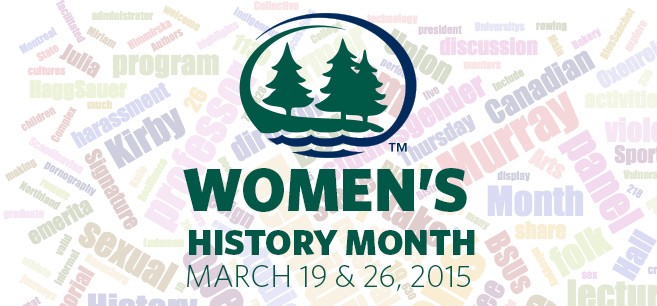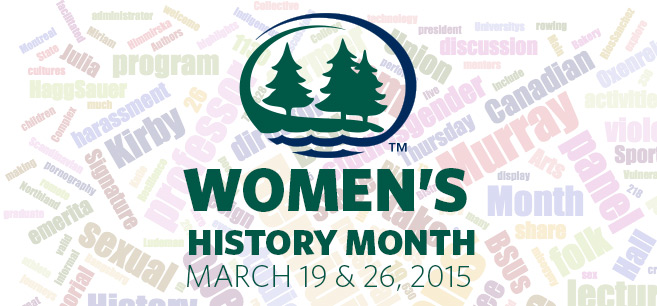 Concerts, panel discussions and a signature lecture by former Canadian Olympian and University of Winnipeg sociology professor emerita Dr. Sandra Kirby highlight a series of Women's History Month activities organized by Bemidji State University's women's studies-gender studies program.
The events take place March 19 and March 26 on campus, and most are free and open to the public.
Thursday, March 19
11:30 a.m. – 1:30 p.m. – Musical performance by Bemidji folk artist Shannon Murray, with a live radio remote from Coyote 102.5 FM, at the Lakeside Stage in BSU's lower Hobson Memorial Union.
An arts & crafts and design display will be open in the Scandanavian Room of the lower Hobson Union during the performance.
3 p.m. – Panel discussion, "Vulnerability and Resilience: An interactive conversation about the many dimensions of misogyny and working toward prevention." Panelists for this conversation on date rape, domestic violence, sex trafficking, pornography, sexual assault and sexual harassment include Dr. Randy Ludeman, BSU's associate director of residential life, and Katie Hayft, from Bemidji's Support Within Reach sexual violence resource center. The conversation will take place in Hagg-Sauer Hall 107 and is open free to all.
7:00 p.m. – Shannon Murray performs "Riot Grrrl Folk!" with an informal question and answer session afterward on the Main Stage in Bemidji State's Bangsberg Fine Arts Complex. Tickets are available at Wild Hare Bistro & Bakery and Harmony Foods in Bemidji for $5. BSU students are admitted free with a valid ID.
Thursday, March 26
11:30 a.m. – 1:30 p.m. – Maggie Carlson and Friends present music and poetry readings on the Lakeside Stage in BSU's lower Union.
A "Meet the Authors" event where students and their faculty mentors share their creative works will take place during the musical performance in the lower union's Scandinavian Room.
3:30 p.m. – Panel discussion, "Weaving the Stories of Women's Lives," featuring Bemidji-area poet Julia Oxenreider; Dr. Miriam Rios-Sanchez, assistant professor of Earth sciences at BSU; and Dr. Natalia Himmirska, associate professor of technology, art & design at BSU. The panel, facilitated by Katrina Werchouski, director of the Native American Indigenous Cultural Center at Northland College in Ashland, Wis., these women will share the experiences of their unique journeys from different countries and cultures, and explore the career paths that brought them to Bemidji. The panel will take place in Hagg-Sauer Hall room 107 and is open to all.
7 p.m. – Women's History Month and Honors Council Signature Lecture by Dr. Sandra Kirby. Kirby is an accomplished teacher, researcher, scholar and administrator and a former Olympic athlete who has dedicated much of her career to eradicating sexual harassment and abuse, homophobia and violence against children in sport. She is a professor emerita and former vice president for research and dean of graduate studies at the University of Winnipeg. She competed in the 1976 Olympic Games in Montreal as a member of the Canadian rowing team.
The lecture will be in Bridgeman Hall 100; a pre-lecture welcome reception begins in Bridgeman 100 at 6:30 p.m. Both are open to everyone.
Bemidji State's Women's History Month activities are sponsored by the Northwest Minnesota Women's Fund; and by Bemidji State's women's studies-gender studies program; honors program; Department of Human Performance, Sport & Health; and Department of Athletics.
Contact
• Dr. Carla Norris-Raynbird, assistant professor of sociology, director of women's studies-gender studies
Links
• Shannon Murray: Facebook; BandCamp
• Julia Oxenreider feature on KAXE Northern Community Radio, April 2013
• Dr. Sandra Kirby
Bemidji State University, located in northern Minnesota's lake district, occupies a wooded campus along the shore of Lake Bemidji. Enrolling nearly 5,000 students, Bemidji State offers more than 50 undergraduate majors and nine graduate programs encompassing arts, sciences and select professional programs. BSU is a member of the Minnesota State Colleges and Universities system and has a faculty and staff of more than 550. University signature themes include environmental stewardship, civic engagement and global and multi-cultural understanding.