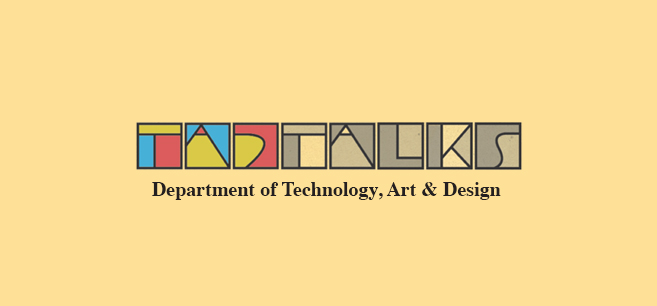 March 26, 2015 — Bemidji State University's Department of Technology, Art and Design will feature 11 presentations from business and industry leaders from across the country in its first-ever TAD Talks event.
The department's TAD Talks, modeled after the famous TED Talks series, is a multi-disciplinary event featuring live presenters. Presentations are intended to help the audience understand and seek meaning in issues involving technology, creativity, innovation and the entire process of life.
Presentations will begin at 4 p.m. April 30 in Hagg-Sauer Hall 100 on the BSU campus. Appetizers will be available at a post-event reception beginning at approximately 7:30 p.m. TAD Talks are open free to the public.
Mitchell Mauk, principal of San Francisco-based Mauk Design, will give the keynote presentation at this year's TAD Talks. Mauk, who has won multiple awards from organizations such as the Industrial Designers Society of America, the Society for Experiential Graphic Design and the American Institute of Graphic Arts, will present "Things I Wish I Knew When I Was a Student."
Other presentations include an explanation of lighting technology, approaching design as a problem-solving exercise, the power of having a life plan and how to be human in a digital age.
Randal Acker (@rackercoo), president and chief operating officer of EXHIBITOR Media Group will emcee the event. EXHIBITOR partners with the department to award an annual EXHIBITOR Student Achievement Award to a BSU design student and also sponsors several scholarships for the department.
TAD Talks lineup
KEYNOTE: Mitchell Mauk, principal, Mauk Design, San Francisco; "Things I Wish I Knew When I Was a Student"
Dana Esposito – creative director, Elevation Exhibits & Events, Shrewsbury, Mass.; "Approach Art as Art and Design as Problem Solving"
Travis Stanton, editor, Exhibitor Media Group, Rochester, Minn.; "The Only Enduring Trend"
John Henken, creative director, MG Design, Pleasant Prairie, Wis.; "Being Human in a Digital Age"
Brian Maciej, president, and Jim Schill, vice president, Lime Valley Advertising, Mankato, Minn.; "Expose Yourself: Improve Your Interview Presentation"
Norm Friedrich, president & CEO, OCTANORM, Lithia Springs, Ga.; "What Boomers Want, and Why You Need to Know!"
Ben Stowe, president, NLFX, Bemidji, Minn.; "The Art & Technology of Lighting"
John Grogan, senior designer, Hill & Partners, Weymouth, Mass.; "The Dance of Design & Technology"
Mark Johnson, CEO, Star, Minneapolis, Minn.; "The Power of a Life Plan"
Elizabeth Haney, marketing director, ACME Design, Elgin, Ill.; "A Zombie Apocalypse: Welcome to our Nightmare!"
Nate Heim, president, Heim Log Homes, Bemidji, Minn.; "Cabin Fever: On the National Geographic Channel"
Contact
Sachel Josefson, assistant professor of technology, art & design; (218) 755-2949, sjosefson@bemidjistate.edu