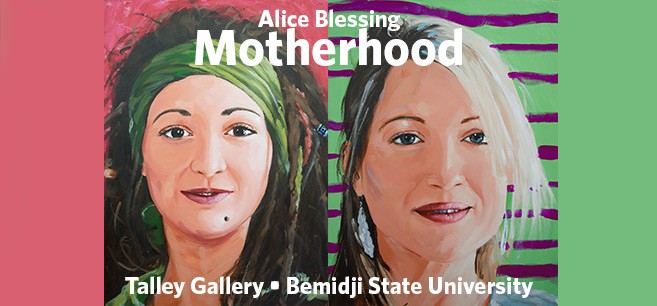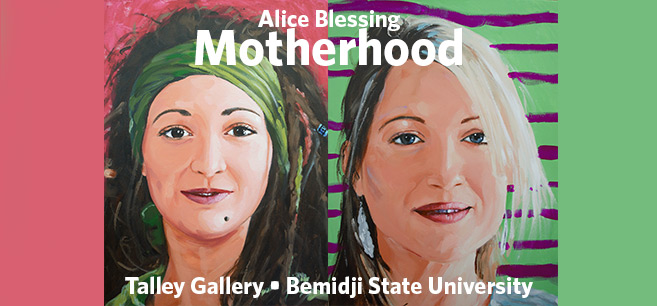 Local painter Alice Blessing will explore motherhood and the impact children have on the lives of their mothers in an exhibition of her work, called "Motherhood," at Bemidji State University's Talley Gallery.
The show will open on April 7 and run through May 8. Blessing will host an opening reception in the gallery from 2-5 p.m. on April 7. All events in the Talley Gallery are open free to the public.
Blessing, a Bemidji State graduate, is a finger painter known for her whimsical, yet accurate, portraits. "Motherhood" is her exploration of the ways children impact their parents' lives, often in unpredictable ways. The paintings explore the many-layered relationship between mother and child, and their process reflects a unique collaboration between the two. Blessing completed the portraits, and then left her daughter Azalea to change or embellish them as she wished.
"By allowing her free reign to paint on my paintings, I struggled to overcome my own perfectionism," Blessing said. "It is the same with mothering. I have to give up a lot in my own life for her — but look at what happens when I do.
"I would do a lot of things differently if it were up to me, including these paintings," she said. "But I am glad for her changes."
Blessing lives in Bemidji and her work is held in private collections all around the country. She works as a commissioned portrait artist and also as a gallery artist who has exhibited around the country. Her personal work usually stems from feminist concepts.
"Motherhood," like all activities at the Talley Gallery, is supported by Bemidji State's student body through the Student Activity Fee Allocation Committee.
About the Talley Gallery
Located in Bridgeman Hall room 140 on the campus of Bemidji State University, the Talley Gallery is barrier-free and open at no charge to the public. The gallery is open Monday through Friday from 9 a.m.-4 p.m.
Contact