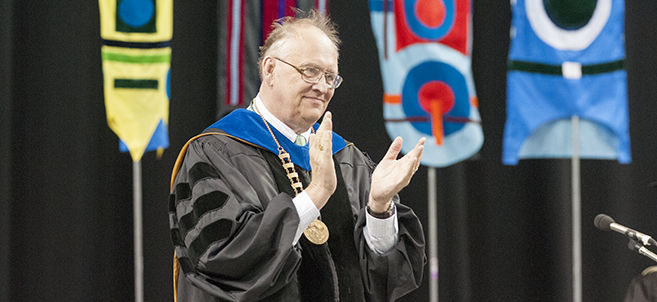 Bemidji State University celebrated 1,002 new college graduates in front of a capacity crowd of family, friends and supporters at its 96th Commencement ceremony.
BSU's Class of 2015 featured:
• 58 master's degree recipients. BSU awarded two master in education degrees, three master in special education degrees, four master of arts degrees and 49 master of science degrees;
• 182 undergraduates who graduated with honors, including 53 Summa Cum laude honorees, 53 Magna Cum Laude honorees and 78 Cum Laude honorees;
• 734 students who were eligible to receive undergraduate degrees, including 66 bachelor of arts recipients, 7 bachelor of fine arts recipients, 642 bachelor of science recipients and 19 bachelor of applied science recipients, and
• 28 associate in arts degrees recipients.
BSU also gave special recognition to 28 graduates from 12 international nations who were a part of this year's graduating class. Families and friends of these students joined the campus community from countries including Nepal, Nigeria, Liberia, Indonesia, Canada, Malaysia, Moldova and Kenya.
The university also recognized 31 members of the Class of 2015 who have served our nation as active duty military personnel or veterans.
Dr. Richard A. Hanson, president of Bemidji State University and Northwest Technical College recognized commencement as the highlight of the academic year.
"Commencement acknowledges academic achievements and reaffirms the continuing vitality of campus," he said. "We celebrate long-standing traditions and reflect on the opportunities ahead."
Addressing Today's Graduates
BSU's Class of 2015 was addressed by Thomas Renier, chair of the Minnesota State Colleges and Universities Board of Trustees, 2014-15 Student Senate co-presidents Jenna Long and Megan Vilmain, and Bemidji Mayor and member of the BSU Alumni Association Board of Directors Rita Albrecht.
Long reminded her classmates that their educations were worth much more than the number of credit hours it took to complete their degrees.
"It's about realizing that we are part of something so much bigger than ourselves, and that we are capable of making a dent in the universe," she said.
Albrecht welcomed the Class of 2015 into the BSU Alumni Association, and Renier delivered greetings from system Chancellor Steven Rosenstone.
"We expect you to become leaders in your fields, and we expect you to contribute to the quality of life that keeps Minnesota, the region and our nation competitive and strong," Renier said. "And we expect you to be someone who supports and encourages those who want a brighter future."
Jon McTaggart: Distinguished Minnesotan honoree
Jon McTaggart, president and chief executive officer of American Public Media and Minnesota Public Radio, addressed BSU's graduating class as the 33rd recipient of BSU's Distinguished Minnesotan award.
McTaggart, a BSU alumni, recounted his own path through college which culminated in both he and his wife becoming the first members of their families to earn college degrees.
"With my college degree in hand, I had dreams about my future," he said. "I never could have dreamed that 30 years after I graduated I would have the best job in the world."
McTaggart said that it was normal to think commencement marked the end of something, as students have finished their last class and their requirements to graduate. He reminded the class of 2015 that commencement means "to begin." With that in mind, he gave BSU's graduates three new assignments — to be informed, to be excellent and to be grateful.
"Individuals owe it to themselves and to the world to be informed," he said. "Tomorrow, no professor will demand that you continue to educate yourself. Friends and family won't make you do it, and most bosses won't make you do it. It's up to you."
He encouraged the graduating students to look beyond information that simply reinforces what they think they already know.
"There are plenty of sources that will pander to you," he said. "To learn, you have to stretch yourself beyond your comfort zone."
He also encouraged graduates to pursue excellence in all they do.
"Being excellent is not easy," he said. "Being excellent means you love to exceed expectations and you do not settle for 'good enough.' When you commit yourself to being excellent, you surprise people — and sometimes surprise even yourself."
Finally, McTaggart asked that graduates be grateful.
"Gratitude is the mark of a noble soul and a refined character," he said, quoting Joseph Wirthlin.
He also reminded graduates not to lose sight of the incredible opportunities they have enjoyed that have helped guide them down the path toward college graduation.
"Young people from every other country on the planet come to this country to get the education you got right here in Bemidji," he said. "Consider the people in your life who have helped you — every one of you have a parent or a friend or a teacher or a boss who has made this day possible for you. None of us succeed on our own."
Cum Laude honors
The practice of recognizing outstanding academic achievement with Cum Laude honors dates to the earliest European college and university practices in the 13th century. Summa Cum Laude denotes graduates with cumulative grade point averages of 3.90 or higher; Magna Cum Laude recognizes those with GPAs between 3.70 and less than 3.90; and Cum Laude recognizes those with GPAs between 3.50 and less than 3.70.
Bemidji State University, located in northern Minnesota's lake district, occupies a wooded campus along the shore of Lake Bemidji. Enrolling nearly 5,000 students, Bemidji State offers more than 50 undergraduate majors and nine graduate programs encompassing arts, sciences and select professional programs. BSU is a member of the Minnesota State Colleges and Universities system and has a faculty and staff of more than 550. University signature themes include environmental stewardship, civic engagement and global and multi-cultural understanding.