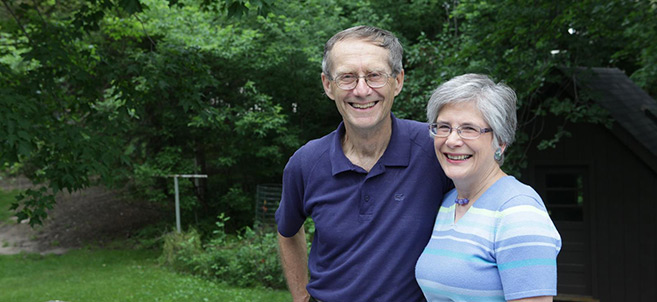 A gift by retired biology teachers Dr. Darby and Geri Nelson to Bemidji State University's Imagine Tomorrow campaign is intended to help American Indian students overcome financial obstacles, the BSU Foundation announced.
Awards of $100 to $750 will be made from the new Helping Hands (Naadamaageng) Student Assistance Fund to enable native students to overcome a short-term money crunch that might otherwise force them to drop out.
The Nelsons, who live in Champlin, said they are extending their wide-ranging philanthropy to Bemidji State because of a strong belief in the value of higher education and awareness of the challenges that many American Indian students face.
"We see native students with tremendous potential struggle to stay in school, sometimes juggling tuition, book purchases, rent, child care, transportation and full-time work," said Dr. Anton Treuer, executive director of the American Indian Resource Center at Bemidji State. "When something goes wrong, it doesn't take much to derail the train for some of them.
"The generosity of the Nelson family will provide us with a powerful tool to intervene in a meaningful way exactly when it is most needed. In short, this gift will help us keep our native students in school. That's the power of giving."
Though neither of the Nelsons attended BSU, Darby in particular feels a strong personal loyalty to Bemidji State. He said the president of the then-Bemidji State Teachers College helped his father, Miles, stay in school and go on to get his first teaching job at Red Lake.
"We owe such a debt to Bemidji," Darby said, "and this is one way we can really say thank you, by means of helping Indian kids have a fighting chance."
The Nelsons have previously made gifts to the Nature Conservancy, an organization that Darby also served as a trustee; their alma mater the University of Minnesota, including its Itasca Biological Field Station in Itasca State Park, where they met and fell in love in 1966; the League of Women Voters Minnesota; and Anoka-Ramsey Community College, where Darby taught for 35 years. He received multiple teaching awards and was named College Science Teacher of the Year by the Minnesota Academy of Science and the Minnesota Science Teachers' Association.
Geri Nelson, a native of Golden Valley, taught physical and research science in the Anoka-Hennepin School District for 25 years, mostly at Champlin Park High School, served three years as director of the Minnesota Academy of Science State Science Fair, and helped develop the state's science framework for K-12 education.
A former president of the League of Women Voters of Anoka, Blaine, Coon Rapids Area, she is now its voter services co-chair, while also leading efforts to raise awareness of threats to bees and other pollinators and helping lead a statewide capital campaign. She also visits high schools and attends U.S. immigration ceremonies to encourage voter registration.
Darby, born in Soudan, served three terms as an outspoken environmental advocate in the Minnesota House of Representatives from 1983 to 1988, and he remains actively involved in multiple organizations to preserve and protect wild places in Minnesota and elsewhere.
Recently, he is best known as the author of "For the Love of Lakes," which was inspired by the paradox that people's love of lakes can mean participating in their deterioration. Published in 2011, the book teaches lake ecology with lyrical storytelling in the style of Sigurd Olson as it evokes the attachment so many people feel to "their" lakes.
Darby is now hard at work on a new book, which he describes as "the environmental biography of the Minnesota River and its basin." Like the earlier work, it is rooted in personal experience, his boyhood exploration of steep bluffs and river's edge. Also like the earlier work, it has a deeper message, striving to bridge the conflict between agricultural and environmental concerns.
Contacts
• Scott Faust, director of communications & marketing
• Maryhelen Chadwick, communications & marketing specialist, BSU Alumni & Foundation
Bemidji State University, located in northern Minnesota's lake district, occupies a wooded campus along the shore of Lake Bemidji. Enrolling nearly 5,000 students, Bemidji State offers more than 50 undergraduate majors and nine graduate programs encompassing arts, sciences and select professional programs. BSU is a member of the Minnesota State Colleges and Universities system and has a faculty and staff of more than 550. University signature themes include environmental stewardship, civic engagement and global and multi-cultural understanding.