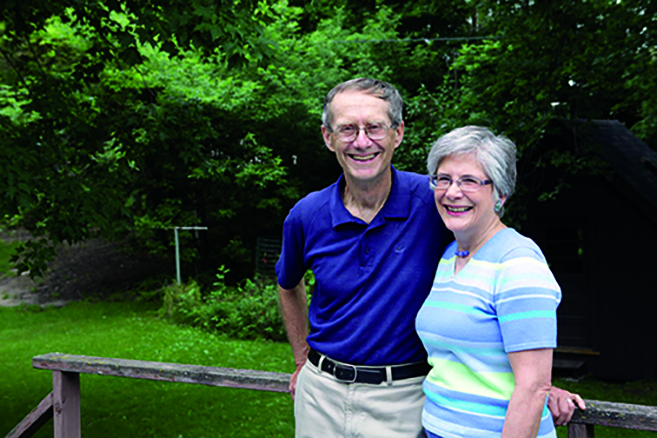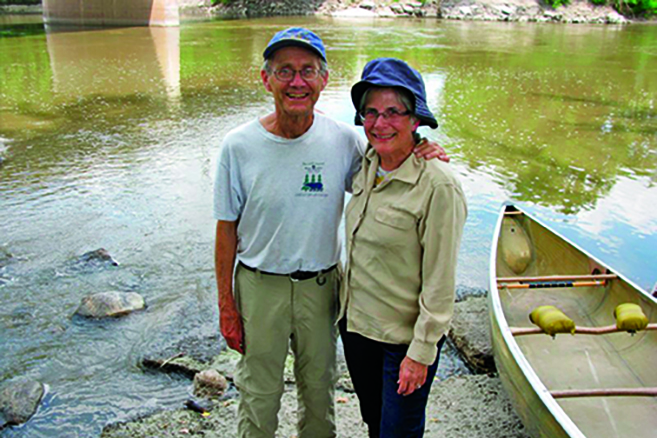 By Scott Faust
Retired biology teachers Dr. Darby and Geri Nelson are the very models of how to align activism with avocation, combining good works with good fun.
This is evident in their paddling trips to research Darby's books on the fragility of our natural heritage, in Geri's dedication to the League of Women Voters, and in their generous philanthropy to causes that align with their core values.
Financial aid to help low-income American Indian students continue their education at Bemidji State University is the latest outcome of the Nelsons' beneficence.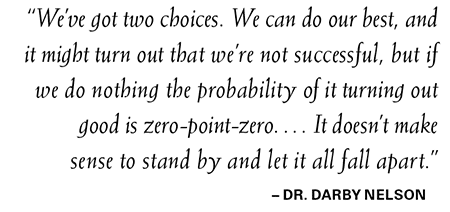 Though defined by frugality rather than by wealth, the Nelsons are deliberately giving away what they can, because, Darby said, "It is the most joyous thing that we've ever done."
Giving has been a lifelong habit, but with their son and daughter grown, the couple has been able to do more than they could when they were younger.
"It's a lot more satisfying to do it while we're alive and see the results than put it all in our will," Geri said.
The couple, who live in Champlin, decided in March to create the Helping Hands (Naadamaageng) Student Assistance Fund. The awards, which at present can range from $100 to $750, are meant to help native students through an immediate crunch that might otherwise thwart their progress.
Darby has a strong personal loyalty to Bemidji State, where the president of the then-Bemidji State Teachers College helped his father, Miles, stay in school and go on to get his first teaching job at Red Lake.
That intervention established a family culture that greatly values higher education.
"We owe such a debt to Bemidji," Darby said, "and this is one way we can really say thank you, by means of helping Indian kids have a fighting chance."
The Nelsons have previously made gifts to the Nature Conservancy, an organization that Darby also served as a trustee; their alma mater the University of Minnesota, including its Itasca Biology Station in Itasca State Park, where they met and fell in love in 1966; the League of Women Voters Minnesota; and Anoka-Ramsey Community College, where Darby taught for 35 years. He received multiple teaching awards and was named College Science Teacher of the Year by the Minnesota Academy of Science and the Minnesota Science Teachers' Association.
They also are fully engaged in making the world a better place with their own hands and minds.
Geri, a native of Golden Valley, taught physical and research science in the Anoka-Hennepin School District for 25 years, mostly at Champlin Park High School, served three years as director of the Minnesota Academy of Science State Science Fair, and helped develop the state's science framework for K-12 education.
A former president of the League of Women Voters of Anoka, Blaine, Coon Rapids Area, she is now its voter services co-chair, while also leading efforts to raise awareness of threats to bees and other pollinators and helping organize a statewide capital campaign. She visits high schools and attends U.S. immigration ceremonies to encourage voter registration.
"Defending voting rights and good government is essential to all the other issues we care about," Geri said.
Darby, born in Soudan, served three terms as an outspoken environmental advocate in the Minnesota House of Representatives from 1983 to 1888, and he remains actively involved in multiple organizations to preserve and protect wild places in Minnesota and elsewhere.
Recently, he is best known as the author of "For the Love of Lakes," which was inspired by the paradox that people's love of lakes can mean participating in their deterioration. Published in 2011, the book teaches lake ecology with lyrical storytelling in the style of Sigurd Olson as it evokes the attachment so many people feel to "their" lakes.
Darby is now hard at work on a second book, which he describes as "the environmental biography of the Minnesota River and its basin." Like the earlier work, it is rooted in personal experience, his boyhood exploration of steep bluffs and river's edge. Also like the earlier work, it has a deeper message, striving to bridge the conflict between agricultural and environmental concerns.
Darby and Geri, who herself grew up with lakes, paddled the entire length of the river to gather material, and this summer they plan to navigate some of its feeder streams.
The Nelsons are passionate people who clearly believe in making their lives count.
Even in the face of an issue as monumental as climate change, Darby said, it's crucial to stay in the fight.
"We've got two choices," he said. "We can do our best, and it might turn out that we're not successful, but if we do nothing the probability of it turning out well is zero-point-zero. It doesn't make sense to stand by and let it all fall apart."