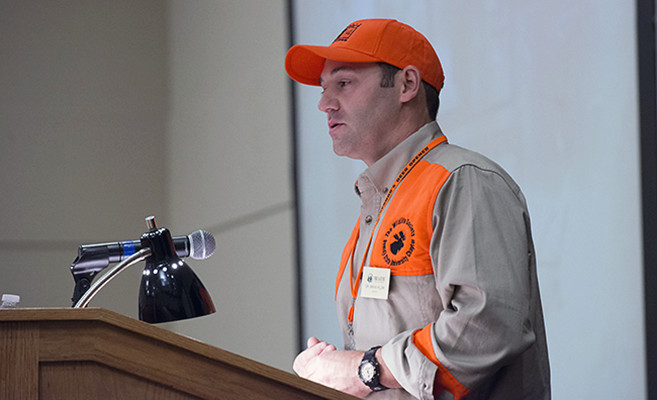 Starting this fall, Bemidji State University students who seek careers in natural resources agencies or who are interested in graduate study in wildlife biology can enroll in a new bachelor of science program in wildlife biology.
As part of the 72-credit program, students take courses in wildlife management, geographic information systems, policy and legal administration, and ethics and human dimensions in management in addition to traditional biology courses. Previously, BSU biology students could pursue a wildlife biology management emphasis by taking around a half-dozen classes related to the subject.
The new major not only allows graduates to earn a bachelor of science degree in wildlife biology, but also The Wildlife Society certification as an associate wildlife biologist.
The certification is intended for professionals who have limited experience but have completed rigorous, standards-based academic training. Associate wildlife biologists also adhere the society's standards for ethical practice. Certification lasts for a period of 10 years and cannot be renewed, although it can be upgraded if  qualifications for the society's certified wildlife biologist program are met.
Dr. Elizabeth Rave, professor of biology, said the certification adds an additional layer of desirability to graduates of the program beyond having a degree from BSU — already well-known and respected for the quality of its biology graduates.
"The certification tells potential employers that our students have taken courses that wildlife professionals look for," Rave said. "There are a number of state and federal agencies that look at certification, and we have designed this program to give our students the background they need for associate status."
Dr. Brian Hiller, assistant professor of biology, says the program is a natural fit for Bemidji State given the university's location among a broad variety of ecosystems.
"This is the perfect location for a wildlife program," he said. "We are in a traditional hardwood biome; if you drive an hour and a half northeast you're in a bog and boreal forest, and an hour and a half southwest you're in the beginnings of the prairie. I can't think of another school where you can get to three drastically different biomes that quickly. It's so unique."
Bemidji State University's wildlife biology program is open and accepting students for the fall of 2015.
Contacts
• Dr. Elizabeth Rave, professor of biology; (218) 755-2785, erave@bemidjistate.edu
• Dr. Brian Hiller, assistant professor of biology; (218) 755-2212, bhiller@bemidjistate.edu
Links
• Bemidji State's wildlife biology program
• BSU wildlife biology program requirements
• The Wildlife Society