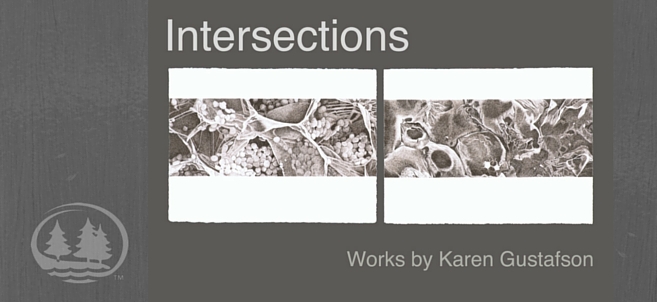 Minnesota artist Karen Gustafson combines art and technology to explore changes in our food and the relationship of those changes to human health in "Intersections," opening Aug. 27 in Bemidji State University's Talley Gallery.
Using technology, electron microscope and spectrograms to see what the natural eye cannot, Gustafson observes and then creates vast microscopic and imagined landscapes.
"Intersections" includes works from Gustafson's Raw to Processed series, where she investigates pattern differences between foods in their natural and processed states. The exhibition also includes drawings of musical patterns, which result in compositions that strongly conjure a place and its surroundings.
"Each drawing investigates the relationship between the elements of raw food and its processed counterpart," Gustafson said. "Pattern recognition and structural differences in the drawings explore the nature of exactly what our food has become. The Raw to Processed drawings are linked to the music series in their investigation into what is unseen with our natural vision."
An opening reception for the gallery will be held Aug. 27 from noon-3 p.m.
"Intersections," like all exhibits at the Talley Gallery, is supported by Bemidji State's student body through the Student Activity Fee Allocation Committee.
Karen Gustafson is a tenured art instructor at Normandale Community College in Bloomington, Minn. She has recently won a Metropolitan Regional Arts Council Next Step Grant funded by the McKnight Foundation and a Minnesota State Arts Board Artist Initiative Grant. An interview with Gustafson, featuring her work and studio process, was included in MN Original. The video was selected by the Public Television Major Market Group and WNET in New York for the first PBS arts content sharing initiative; it has aired in arts-related programs across the nation, including NYC-ARTS, LaARTS, and Houston's Arts Insight.
Gustafson earned her bachelor of fine arts degree with a minor in art history from the University of Minnesota. She earned a master of fine arts from the University of Massachusetts at Amherst.
About the Talley Gallery
Located in Bridgeman Hall room 140 on the campus of Bemidji State University, the Talley Gallery is barrier-free and open at no charge to the public. The gallery is open Monday through Friday from 9 a.m.-4 p.m.
Future Talley Gallery Exhibits
• Todd Hebert, painting — Sept. 29-Oct. 28
• Butch Holden, ceramics — Nov. 4-Dec. 17
Contact
• Laura Goliaszewski, Talley Gallery director; (218) 755-3708, lgoliaszewski@bemidjistate.edu
Links
• MN Original feature on Karen Gustafson
Bemidji State University, located in northern Minnesota's lake district, occupies a wooded campus along the shore of Lake Bemidji. Enrolling nearly 5,000 students, Bemidji State offers more than 80 undergraduate majors and 11 graduate degrees encompassing arts, sciences and select professional programs. BSU is a member of the Minnesota State Colleges and Universities system and has a faculty and staff of more than 550. University signature themes include environmental stewardship, civic engagement and global and multi-cultural understanding.