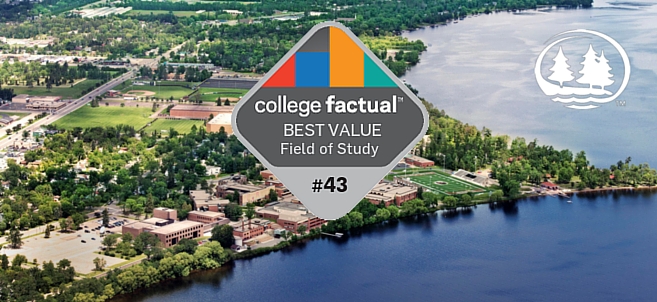 In rankings published Sept. 8 by USA Today, college evaluation firm College Factual has named Bemidji State University one of the country's best values for teacher education. It also rated Bemidji State as one of the top 10 percent of schools nationwide for non-traditional age students.
As part of its annual college and university rankings, College Factual placed BSU's education programs 43rd out of 413 measured programs on its "best value" list.
College Factual also ranked Bemidji State 67th in the country for its support of non-traditional students, which measures factors including the availability of distance learning options, testing requirements and a school's percentage of students over age 24.
Bemidji State's Professional Education Distance Learning (PEDL) program combines these strengths, providing opportunities for working professionals to pursue teaching credentials through online and blended programs. BSU's PEDL program is located on the Anoka, Minn., campus of Anoka-Ramsey Community College.
"This program provides a pathway to licensure for our students, who are predominantly working adults, to finish an undergraduate degree or a post-baccalaureate program and complete licensure," said Dr. Tim Goodwin, chair of BSU's Department of Professional Education. "This has provided an option for hundreds of students  who otherwise would not be able to complete degrees or earn their licensure to become teachers in Minnesota."
Goodwin said the program's hybrid nature, requiring just three weekend meetings a year, helps it remain highly affordable, and online courses make the program accessible to teacher candidates in all corners of the state.
"This is of particular importance to rural Minnesota communities currently suffering teacher shortages," he said. "People who have considered changing careers or starting a career in education now have an option to pursue a teaching license from a remote location while they're working."
BSU also ranked 197th on College Factual's list of best values for a student's money out of 1,223 ranked schools. That ranking is calculated by comparing average yearly cost, average number of years needed to graduate, total degree cost and the organization's overall ranking of a school's quality.
"This is a great example of how Bemidji State University leads the way in excellence and affordability," said Dr. Martin Tadlock, BSU's provost and vice president for academic and student affairs. "Rankings reflect the efforts and accomplishments of people. I am proud of our faculty and staff who excel at what they do in focusing on students and their success."
College Factual also placed BSU among the country's top 15 percent of schools in a number of other categories:
Value For Your Money, Plains States – 40th of 303 ranked schools
Value For Your Money, Nationwide, for Students Receiving No Aid – 159th of 1,223 ranked schools
Value For Your Money, Homeland Security, Law Enforcement and Firefighting – tied for 46th of 352 ranked programs
Best For the Money, Teacher Education and Development, Specific Subjects – tied for 34th of 349 ranked programs
Best For the Money, Criminal Justice and Corrections – tied for 37th of 355 ranked programs
Best For the Money, Business Administration and Management – 96th of 646 programs
The company compiles statistical data on colleges and universities across the country for its annual rankings, which measure schools in categories such as overall best colleges, best colleges for the money and best colleges for veterans.
College Factual's program rankings attempt to identify the best overall colleges for each major by looking at 10 factors. The complete ranking methodology is available on College Factual's website.
College Factual also allows students to identify colleges based on their strengths in a particular sport and for their diversity, religious affiliation and support for veterans and adults returning to college.
Links
Contact
• Andy Bartlett, associate director of communications & marketing; (218) 755-2041, jbartlett@bemidjistate.edu; @abart01
Bemidji State University, located in northern Minnesota's lake district, occupies a wooded campus along the shore of Lake Bemidji. Enrolling nearly 5,000 students, Bemidji State offers more than 80 undergraduate majors and 11 graduate degrees encompassing arts, sciences and select professional programs. BSU is a member of the Minnesota State Colleges and Universities system and has a faculty and staff of more than 550. University signature themes include environmental stewardship, civic engagement and global and multi-cultural understanding.