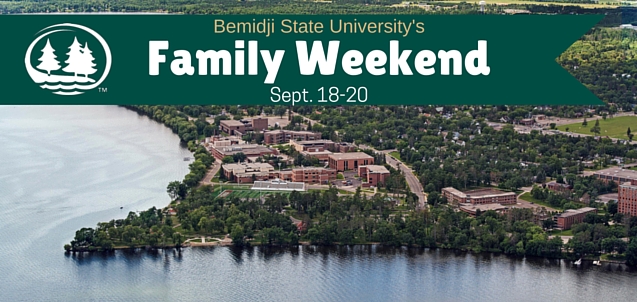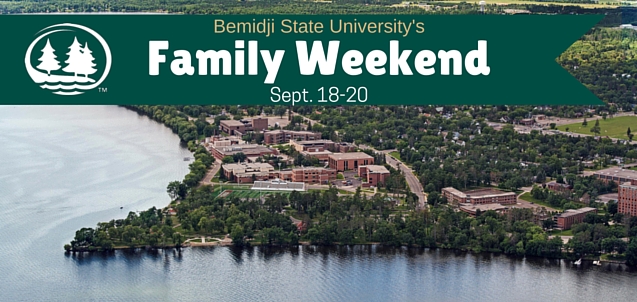 Family Weekend poster
Bemidji State University's annual Family Weekend begins Sept. 18 with a variety of on-campus activities for students and their families. The weekend begins with comic magician Mike Bliss and continues through Sept. 20.
Family Weekend is a special event for families and friends of BSU students to revisit campus – or visit for the first time – check in on their students, and enjoy all that Bemidji State University and the city of Bemidji have to offer. This annual Bemidji State tradition lets our students share the BSU experience with their loved ones and reconnect for a weekend of quality time on campus.
Visitors to Bemidji can find dining and lodging information at visitbemidji.com.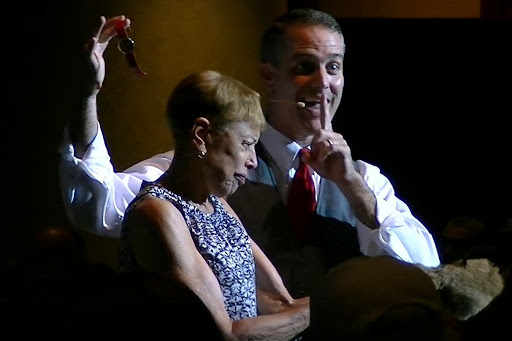 About Mike Bliss
Mike Bliss has been dazzling audiences with his high-energy performances and unique, one-of-a-kind illusions across the country from Miami to Fairbanks for the past 25 years. His performance venues include the World Famous Magic Castle in Hollywood, Cancun, Honolulu, Tahiti, and even headlining his own show in Branson, Mo., which was voted "Branson's Specialty Act of the Year." He has also been featured on television hot spots such as Fox's 30 Seconds to Fame and NBC's America's Got Talent.
Family Weekend Schedule
Friday, Sept. 18
7 p.m. – Mike Bliss, professional comedian, magician, juggler and pickpocket, sponsored by the Campus Activities Board. Hobson Memorial Union ballroom.
8:30 p.m. – Beaver Theater: "Inside Out", Hobson Memorial Union Terrace Lounge
Saturday, Sept. 19
8:30 a.m. – 2015 Scholarship Appreciation Breakfast, John S. Glas Fieldhouse (invitation only)
1-5 p.m. Pontoon rides on Lake Bemidji, Outdoor Program Center Waterfront, Diamond Point Park
1 p.m. – Soccer vs. University of Mary, Chet Anderson Stadium
2 p.m. – Volleyball vs. University of Minnesota Duluth, BSU Gymnasium
6 p.m. – Football vs. Winona State, Chet Anderson Stadium
8:30 p.m. – Beaver Theater: "Inside Out", Walnut Hall upper deck
Sunday, Sept. 20
10 a.m. – 1 p.m. – Casual Brunch at Wally's, Walnut Hall
Contact
Nina Johnson, associate director of the Hobson Memorial Union; (218) 755-3760, njjohnson@bemidjistate.edu
Links