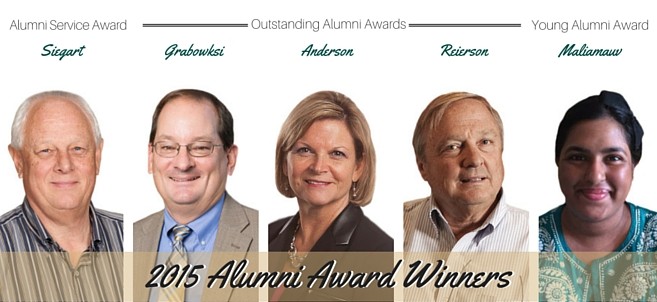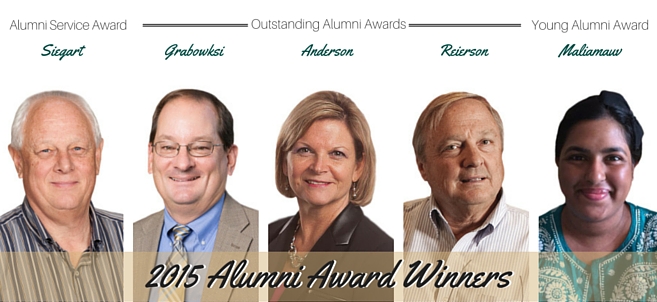 The Bemidji State University Alumni Association and Foundation will recognize five individuals as alumni award winners at the 2015 Honors Gala Oct. 2. Bemidji's own Richard Siegert '67 will receive the Alumni Service Award. Human rights worker Katrina Jorene Maliamauv '07 of Selangor, Malaysia, has earned the 2015 Young Alumni Award. The 2015 Outstanding Alumni are Sandra (Henderson) Anderson '82 of Eden Prairie, Joe Grabowski '81 of Plymouth and Roger Reierson '74 of Fargo.
The awards will be presented at the black-tie optional "Green-Tie Affair" in the Sanford Center ballroom. The evening, which will celebrate award recipients, Bemidji State's most generous donors and Legacy Society members, will begin with a social hour at 5:30 p.m. with dinner and program beginning at 6:30 p.m. All are welcome to attend this event. Registration is required by Sept. 25. The cost is $50. Call 218-755-3989 or visit www.bsualumni.org for more information.
Outstanding Alumni Award recipients are nominated by alumni, faculty and staff. Honorees are selected by the Alumni Association Board of Directors for distinguished and professional achievement and recognition to their alma mater through outstanding service and significant contributions to their community, state and nation. Nominees must have graduated from BSU no less than ten years ago.
Distinguished alumni biographies
ALUMNI SERVICE AWARD RECIPIENT
Richard Siegert '67 earned degrees in business administration and education. He began his career in public education in Wyandotte, Mich., but returned to Bemidji in 1971 and pursued a career in the lodging industry. During his 44 years in Bemidji, he has led and served the community through a variety of affiliations including Bemidji Chamber of Commerce, Bemidji Curling Club, First Lutheran Church Board, Beaver Pride, BSU Foundation Board, Bemidji Visitors & Convention Bureau Board (past president) and Bemidji Lions Club (past president) among others. He currently is co-chair of the Paul Bunyan Expressway Coalition
YOUNG ALUMNI AWARD RECIPIENT
Katrina Jorene Maliamauv '07 earned her bachelor of science in psychology from BSU before returning to Malaysia to work as a human rights activist. As a program officer for Tenaganita, she works to uphold and defend the rights of migrants, refugees and other marginalized communities. She advocates for and intervenes on justice, substantive equality, refugee rights, modern-day slavery, labor rights, arrest and detention, gender-based violence and an intersection of issues and rights. A Chevening Scholarship recipient, she is currently pursuing a master's degree in applied human rights from the University of York in the United Kingdom and will return to Malaysia upon completion of her degree.
OUTSTANDING ALUMNI AWARD RECIPIENTS
Sandra (Henderson) Anderson '82 is chief legal officer for Minneapolis-based Great Clips, Inc. She advises the organization on a broad range of complex legal, business and strategic issues. With 25 years of experience in franchising, she has implemented legal best practices to ensure the success of the company-franchisee relationships for Great Clips. She joined Great Clips in 2000 and was promoted from vice president and general counsel to her current position in 2011. Anderson graduated from BSU with a bachelor of arts in English and went on to earn a doctor of jurisprudence from the William Mitchell College of Law in 1987.
Joseph Grabowski '81 is CEO of Wenck Associates in Maple Plain. Throughout his 34-year career, he has led the cleanup of more than 50 national and state Superfund Hazardous Waste sites. A recognized industry expert, he has testified in county, state and federal court and has co-authored articles for peer-reviewed technical journals. A BSU graduate with a bachelor of science degree in aquatic biology with a minor in chemistry, Grabowski went on to earn a master's degree in water resources from the University of Wyoming in 1982. He furthered his post-graduate learning with additional studies in industrial hygiene and completed his mini-MBA through the University of St. Thomas.  
When Roger Reierson '74 joined the Flint Agency in 1976, it employed 13 people. The company has since expanded to include agencies in Grand Forks, Duluth and St. Cloud, plus AdFarm offices in Calgary, Guelph, Kansas City and Sacramento, that employ more than 175 employees. He is also the chairman and CEO of AdFarm, one of the largest agri-marketing firms in North America. Reierson holds a bachelor's degree in marketing and finance. He is a thought leader and officer for many groups, including the Greater North Dakota Chamber Association, Agricultural Bioscience International Association and Village Family Services Foundation. In 2011, he was named NAMA National Agri-Marketer of the Year. He has gone beyond his work in international communications to develop agribusiness and microbusiness opportunities in Africa.
Visit bsualumni.org/events and follow Bemidji State Alumni on Facebook and Twitter to get the latest event updates.