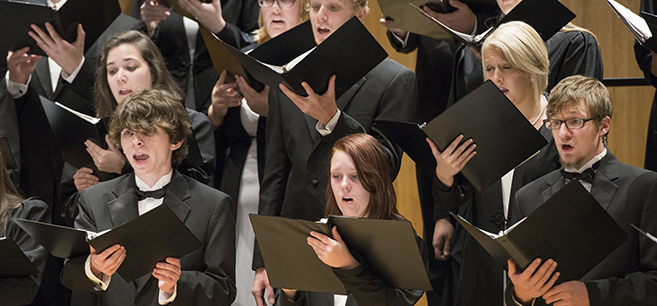 Bemidji State University's Department of Music kicks off its 2015-2016 performance season Oct. 4 with its traditional Carl O. Thompson Memorial Concert.
The show is scheduled for 1 p.m. in the Thompson Recital Hall and the Main Stage Theatre of BSU's Bangsberg Fine Arts Complex. Admission is $10 for adults, $5 for senior citizens and free for students.
In addition to performances by BSU's major performing ensembles, the concert will feature student performances by this year's winners of the concert's namesake scholarships.
The vocal scholarship recipient is Luke Barnard, a senior from LeSueur, Minn., who is pursuing a bachelor of arts degree in vocal performance under the direction of Dr. Cory Renbarger, assistant professor of music. Barnard has performed numerous roles in BSU's Bemidji Opera Theater productions, most recently as Nanki-Poo in "The Mikado." He also has sung with the Bemidji Symphony Orchestra. He will be attending graduate school in vocal performance next year.
The instrumental scholarship recipient is Stephen Martin, a senior from Mounds View, Minn., who is pursuing a bachelor of arts in trumpet performance under the instruction of Dr. Del Lyren, professor of music. He has performed and studied with various members of the Minnesota Orchestra and is actively involved in BSU's Wind Ensemble, Jazz Band and Brass Quintet. He also has played in the pit orchestra for BSU's Opera Theatre productions.
Performing ensembles, in concert order, will be:
• The Chamber Singers, under the direction of Dr. P. Bradley Logan, professor of music and director of choral activities. The Chamber Singers is a 16-member ensemble specializing in small-choir pieces such as early English carols, Renaissance madrigals and chansons and selected contemporary works. The Chamber Singers represented BSU with a solo concert performance at Carnegie Hall this past April.
• The Bemidji Choir, founded by Thompson, under the direction of Logan. The 47-member Bemidji Choir has gained a national and international reputation for excellence. In addition to concerts, tours and recordings, the choir produces BSU's annual Madrigal Dinners.
• Blue Ice, directed by Dr. Del Lyren, professor of music. Blue Ice is an auditioned jazz band that tours regionally and has performed in Mexico and Hawaii. Annual performances include the Jingle Jazz Concert and the BSU Jazz Festival.
• Wind Ensemble, directed by Scott Guidry, assistant professor of music and director of bands. The Wind Ensemble is a group focused on contemporary wind band pieces as well as 20th century concert band classics.
In addition, alumni from both The Bemidji Choir and the Wind Ensemble will join their respective ensembles to perform the final piece in their concert set as part of the music department's celebration of Homecoming.
Proceeds from the concert help fund the department's two $1,150 Carl O. Thompson Scholarships.
Thompson came to Bemidji State in 1937 as an instructor in vocal music and eventually founded the A Cappella Choir, the Bemidji Civic Oratorio Society and the Lutheran Campus Center. He lectured each summer for 20 years at the Paul Christiansen Choral Schools throughout the United States and directed numerous high school music clinics and festivals. He was past president of the Minnesota Music Educators Association, director of the First Lutheran Church Choir for 25 years and chair of Bemidji State's Department of Music for many years.
Tickets
Tickets for the Carl O. Thompson Memorial Concert are $10 for adults, $5 for senior citizens and free fore students. They will be available for purchase at the door.
Contact
• BSU Department of Music, (218) 755-2915
Bemidji State University, located in northern Minnesota's lake district, occupies a wooded campus along the shore of Lake Bemidji. Enrolling nearly 5,000 students, Bemidji State offers more than 80 undergraduate majors and 11 graduate degrees encompassing arts, sciences and select professional programs. BSU is a member of the Minnesota State Colleges and Universities system and has a faculty and staff of more than 550. University signature themes include environmental stewardship, civic engagement and global and multi-cultural understanding.