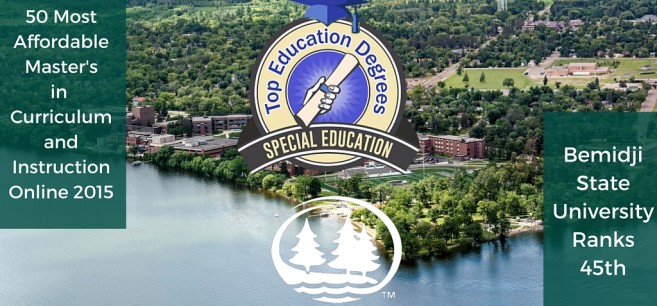 Bemidji State University's online master of arts in education degree program has been ranked among the top 50 online master's programs in the country by TopEducationDegrees.com.
The website ranked BSU's program 45th on its list of the 50 most-affordable online master's degrees in curriculum and instruction. Among public institutions on the list of 50, BSU ranked 33rd.
BSU's 35-credit online master's program in education can be completed in four semesters. The program assists students already in the workforce or who have family or other responsibilities that require the flexibility and convenience of online classes. Classes are centered on critical and creative thinking, educational psychology and instruction and curriculum, giving students an advanced understanding of teaching and an emphasis in a field of their choice. BSU's online programs give students the same opportunities to participate in class discussions, post assignments, and get feedback from professors like they would on campus.
Topeducationdegrees.com created its ranking based on information collected from National Center for Education Statistics' College Navigator. It examined 146 schools offering advanced degrees in curriculum and instruction. Many of the schools offered master's programs in education in combination with a curriculum and instruction option, while others offered master of arts or science degrees. The majority of programs reviewed were designed for working teachers, or those with at least some level of classroom teaching experience.
BSU's Center for Extended Learning assists our off-campus students, guiding them through the application process and connecting them with programs and services to support their educational goals. BSU also offers online master's degrees in business administration and special education, in addition to four online teacher licensure programs and an online graduate certificate program in camp nursing.
Contact
• Center for Extended Learning; (218) 755-2068, cel@bemidjistate.edu
• Department of Professional Education; (218) 755-2720