Bemidji State University faculty members Natalia Himmirska and Butch Holden will showcase their artwork as a part of the First City of Arts: Studio Cruise, Oct. 16-18.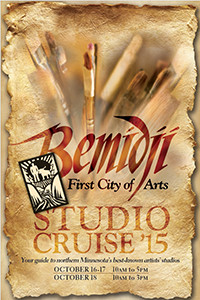 Download Studio Cruise '15 brochure & map (PDF)
Bemidji's Studio Cruise provides the public a unique opportunity to witness, learn about and discuss the creative process with 30 participating artists in their own studios. In addition to demonstrations of their work and techniques, artists will have work available for sale. The tour is free and open to the public.
Holden, a professor of technology, art and design, and Himmirska, an associate professor of technology, art and design, will share their work and processes from 10 a.m. – 5 p.m., Oct. 16-17, and from 10 a.m. – 3 p.m. on Oct. 18. Holden's studio is in Bensen Hall 115, and Himmirska's is in Bridgeman Hall 213.
Holden will display his work in ceramics, along with the work of some of his students. Holden's studio will also feature pottery wheel demonstrations, and visitors will have an opportunity to try the wheel for themselves.
Himmirska will also feature her own work in addition to work by her students. Himmirska will show work in oil, watercolor and encaustic, a technique which dates back more than 2,000 years which involves painting with hot wax.
In addition to the open studios, all other displays in the Department of Technology, Art and Design will be open for public viewing during the studio cruise.
Maps showing locations and driving directions for each of the 30 stops on the studio cruise can be found at participating Bemidji-area businesses. The cruise brochure is also available for download in PDF format.
Links
• Studio Cruise brochure and map
Bemidji State University, located in northern Minnesota's lake district, occupies a wooded campus along the shore of Lake Bemidji. Enrolling nearly 5,000 students, Bemidji State offers more than 80 undergraduate majors and 11 graduate degrees encompassing arts, sciences and select professional programs. BSU is a member of the Minnesota State Colleges and Universities system and has a faculty and staff of more than 550. University signature themes include environmental stewardship, civic engagement and global and multi-cultural understanding.